Fordham Cancels First Three Football Games of 2020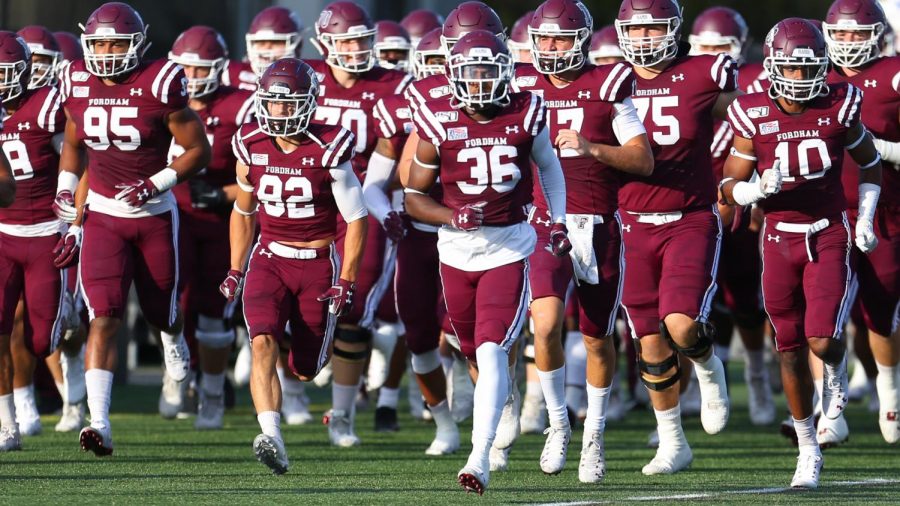 Jimmy Sullivan, Sports Editor
July 6, 2020
After weeks of speculation, Fordham Football's game against Hawaii — scheduled for Sept. 12 in Honolulu — has been canceled due to coronavirus concerns and Patriot League restrictions. On Tuesday, Fordham Athletics also confirmed the cancelation of the team's Aug. 29 game against Stony Brook and its Sept. 5 game against Bryant, both of which were supposed to take place in the Bronx. Fordham's season will begin Sept. 26 at Monmouth University before conference play begins the next week.
"I'm disappointed for our student-athletes, coaches, staff, and fans that we had to cancel the first three games of the season, but the health and wellbeing of our student-athletes is our number one priority," Fordham's interim athletic director Ed Kull said in a statement. "When we return to campus we will follow all guidelines and precautions mandated by the NCAA, the Patriot League, and the University to protect all involved in our program and department."
The Hawaii game has been in question for the past couple of weeks after the Patriot League announced its guidelines for a return to play in the fall. The league's regulations stipulated that teams should not fly to games, and this rule effectively aced Fordham's third game of the season, as it is impossible to drive to Hawaii from the United States mainland. The Stony Brook game was also in jeopardy since the Patriot League announced that games would not begin prior to Sept. 4. Fordham said it would be looking to reschedule these games for the future and add a game on its bye week, on Oct. 24. The game against Bryant was rescheduled because the football team will not be reporting to Fordham's campus until Aug. 17 and would not have adequate time to prepare for that game.
The Patriot League, as well as the Atlantic 10, which houses all of Fordham's athletic teams outside of football, squash and water polo, both still intend to play in the fall as of now. However, as the coronavirus continues to rage across the country, with the U.S. hitting record caseloads last week, that decision is not entirely in the conferences' hands. 
One domino, though, could fall as early as Wednesday. The Ivy League, the first league to cancel spring sports all the way back on March 11, is voting on a proposal to move all fall sports to the spring of 2021, and most coaches expect the measure to pass. One source told Forbes' Adam Zagoria that there is a "98 or 99% chance" that this will occur.