Men's Cross Country Defends Metropolitan Championship, Women Place Second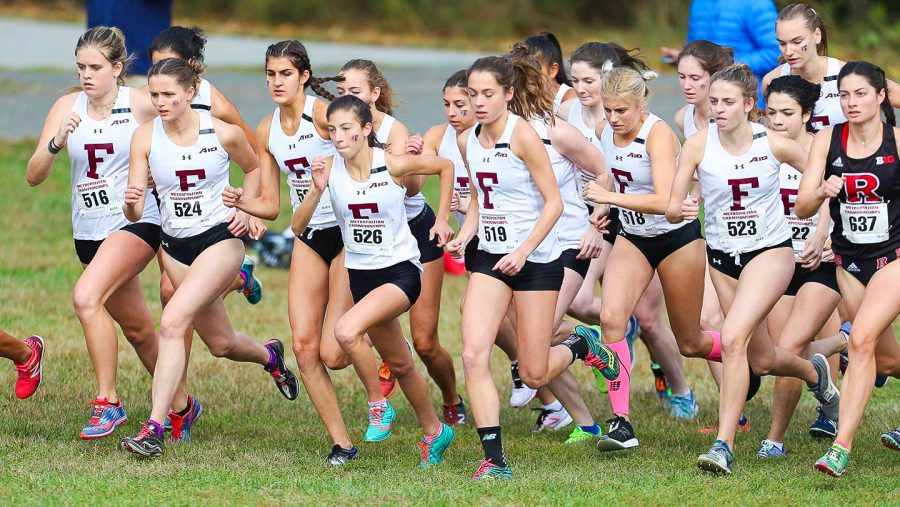 Jimmy Sullivan, Sports Editor
October 16, 2019
The Fordham men's cross country team won its second consecutive Metropolitan Championship on Friday in a dominant performance at Van Cortlandt Park in the Bronx.
The Rams were led by graduate student Nicholas Raefski, who won the individual championship with a time of just over 26 minutes flat. Adding to the impressive performance, two of his teammates — sophomore Brandon Hall and senior Ryan Kutch — finished right behind him in second and third, respectively. Head coach Brian Horowitz's team extended its streak of winning the individual race to six years in a row, with six different Rams finishing first-place in the event.
"I was very happy that the team was able to come together and win the Metropolitan Championship," Raefski said. "Coach Horowitz has done a fantastic job at preparing us and making sure we are in really good shape heading into Championship season, and it was awesome to see so many teammates run well in order for us to secure the title."
The men's team's dominance didn't stop with the top three. Freshmen John McGovern and Colin Flood each had coming-out parties of their own, finishing in fifth and sixth with respective times of 26:15.8 and 26:27.2. Such performances from first-year runners are encouraging for the team as it looks to build beyond this season. Another freshman, Nick Lundberg, finished in 11th while junior Christopher Strzelisnki finished one spot behind him in 12th. Behind these excellent finishes, Fordham coasted to a first-place finish, as the Rams completed the competition over 50 points ahead of second-place Manhattan.
"Winning was certainly nice, but it was even better having my teammates right there," Raefski said. "Ryan, Brandon and I have been working hard all season together, so it was fantastic having them there with me. I'm really looking forward to the next couple of races with them."
While the men's team dominated its side of the event, the women's team also performed admirably.
The Fordham women's cross country team came in second of nine teams at the Metropolitan. The Rams ultimately lost out to Rutgers for the team title. Fordham got two top-five performances from senior Sydney Snow and freshman Alexandra Thomas, who finished third and fourth, respectively, in the individual contest. Senior Katarzyna Krzyzanowski and sophomore Bridget Alex both finished in the top 20 with respective times of 19:49.3 and 19:52.9.
"I was really happy with my performance," Snow said. "It's the highest I've finished in a cross country meet in college and it's always nice to help the team in whatever way I can."
Overall, both teams were extremely impressive, and the team seems to be finding its collective stride at just the right time as the season rolls down the stretch.
"The men's team had an awesome day, they executed perfectly," Snow said. "Not all of us did what we needed to on the women's side in order to win, but we did have some great performances and a lot of personal bests which are always positives to take away."
Both the men's and women's teams will be back in action on Saturday morning at the Princeton Invitational in Princeton, N.J. The event will start at 10 a.m.
"We've got a really young team with a lot of potential so our goal moving forward is to stay focused and keep working hard," Snow said. "We can do a lot more, and we want everyone to know that when we compete at A-10s in November."