Cross Country's Kutch Comes in Second at A-10s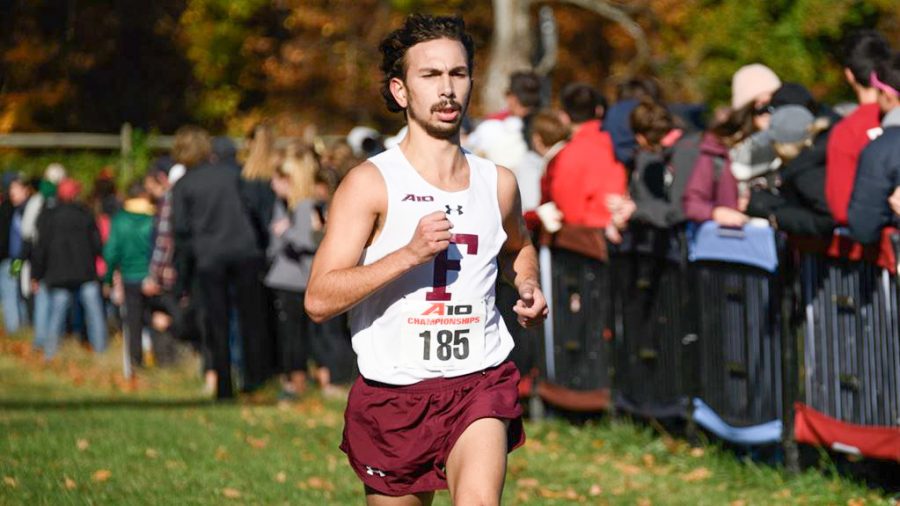 Jimmy Sullivan, Sports Editor
November 6, 2019
Fordham Cross Country competed in the Atlantic 10 Championships on Saturday at Oatlands Plantation in Leesburg, Va. The men's team finished in third while the women's team finished 11th out of 14 teams. 
Senior Ryan Kutch entered the event looking to defend his A-10 crown from a season ago. He was outstanding once again this season, but finished behind St. Joseph's Zachary Minion by four seconds. Kutch earned all-Atlantic 10 honors for his performance, as did fellow senior Nicholas Raefski, who finished 15th with a time of 25:46.9. Both seniors wrapped up their Fordham Cross Country careers in style on Saturday.
"I am most proud of having the best team to push me each cross country season," Kutch said. "We always came into the season with big goals each of my four years. Although that goal wasn't necessarily always hit, we still put in the necessary steps to get there."
Other finishers for Fordham were freshmen Kyle Flood and John McGovern, who finished in 26th and 27th, respectively. Sophomore Brandon Hall finished 34th in a time of 26:20.8. Other competitors on the men's side included freshmen Jack Craven (60th — 26:53.6) and Nick Lundberg (63rd — 26:55.7), junior Christopher Strzelinski (65th — 26:56.4), senior Sean Sullivan (87th — 27:15.9) and freshman Ryan Fahey (104th — 27:58.6). 
Over on the women's side, the team finished 11th out of the 14 teams competing in the tournament. Freshman Alexandra Thomas was the best finisher for head coach Brian Horowitz's team, coming in 26th place with a time of 18:59.0. Senior Sydney Snow was the other top-50 finisher for the Rams with her 43rd-place time of 19:12.0. 
After Thomas and Snow, other competitors for Fordham included sophomore Bridget Alex (70th — 19:49.9), freshman Taylor Mascetta (71st — 19:50.4), senior Kataryna Krzyzanowski (80th — 20:02.0), freshmen Sarah Rubenheimer (102nd — 20:35.2) and Nicoleta Papavasilakis (104th — 20:38.5) and juniors Maeve O'Connor (120th — 21:14.5), Julia Herms (124th — 21:30.5) and Bridget White (128th — 21:52.5). 
This performance by the Rams leads them into the NCAA Regionals in Buffalo, N.Y. on Nov. 15. It also wraps up the first Cross Country regular season under head coach Brian Horowitz, who took over for Thomas Dewey in the offseason. 
"Coach Horowitz has done a great job in his first season so far," Kutch said. "The freshmen have also stepped up and have worked hard to make the travel meets and score for us at meets. We still have two big races to go, so we are excited to showcase what we have for those meets."
Those two big races are the NCAA Regionals and the ECAC/IC4A Championship at Van Cortlandt Park in the Bronx on Nov. 23. The team will take the next few days to get ready for both of those events.
"This year was the highest team finish [at A-10s] and we had a super young team," Kutch says. "I am happy where the team will be in the future."