Kutch Advances to NCAA Cross Country Championship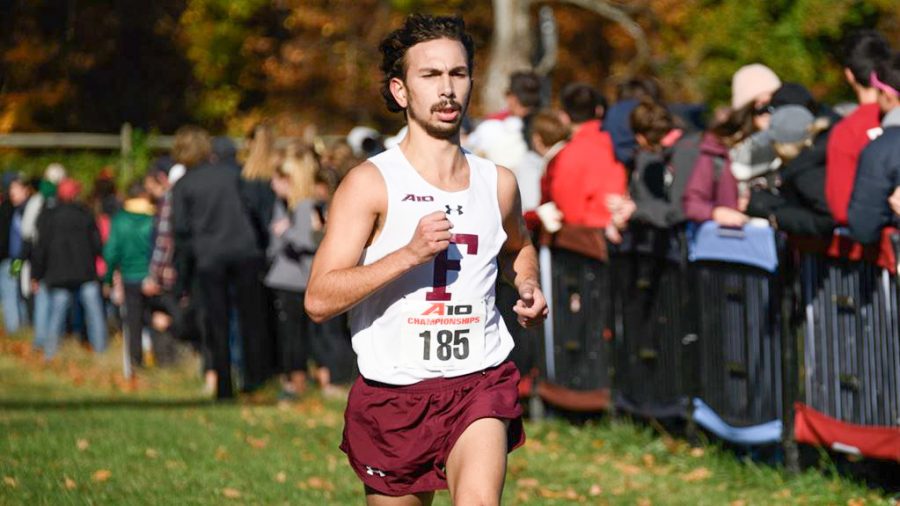 Jimmy Sullivan, Sports Editor
November 20, 2019
Not many things can stop Fordham senior and cross country superstar Ryan Kutch. Evidently, not even a foot of snow can do so, either.
Last Friday's NCAA Northeast Regional Championship was scheduled to be held at the Audubon Golf Course. However, Mother Nature had other ideas, dumping nearly a foot of snow in upstate New York between Monday and Tuesday. Because of the conditions and extensive cleanup necessary to make the golf course passable for competition, the event was moved from the golf course to a local road course, where conditions would be more favorable for the runners.
As it turned out, the quick change and abbreviated preparation time had no ill-effects on Kutch's performance.
Kutch was able to finish this 10K course in a blazing 28:52.5, which was good enough for fourth place and an automatic bid into the NCAA's 2019 Cross Country Championship. Kutch made history, as no Fordham runner has taken part in the NCAA Championship since 1977. His run of historic feats continues, as he will compete on a national stage to conclude his collegiate career.
Kutch's outstanding top-five finish also helped his team, which finished 14th overall in the event. There were four other Ram runners who scored on the day: senior Nicholas Raefski (80th — 30:22.6), sophomore Brandon Hall (87th — 30:30.6) and freshmen John McGovern (93rd — 30:32.9) and Colin Flood (164th — 31:50.3). Two other competitors for Fordham were freshman Jack Craven (198th — 31:00.4) and senior Sean Sullivan (208th — 32:57.4).
For his part in leading Fordham to a 14th-place finish at regionals, Kutch was named to the NCAA's All-Northeast team for the 2019 fall season. Kutch's stellar performance is just the latest in a long line, highlighted by last year's individual Atlantic 10 Championship and this year's second-place finish at the conference tournament. Kutch has been one of the standard-bearers for the Fordham track and cross country teams over his four years in the Bronx, and his presence has been particularly important this season, as the team deftly handled the transition from former head coach Thomas Dewey — who retired over the summer after 39 years at the helm — to current coach Brian Horowitz, who used his knowledge of the team as an assistant and applied it to a head coaching role.
Next up for Kutch is the NCAA Cross Country Championship Saturday in Terre Haute, Indiana. The forecast calls for sunshine and chilly temperatures in the low-40s. It does not call for snow. Even if it did, though, it wouldn't have too much of an effect on Ryan Kutch.