Digital Dazzler Petticoat Talks Future of Pop, '80s New Wave and More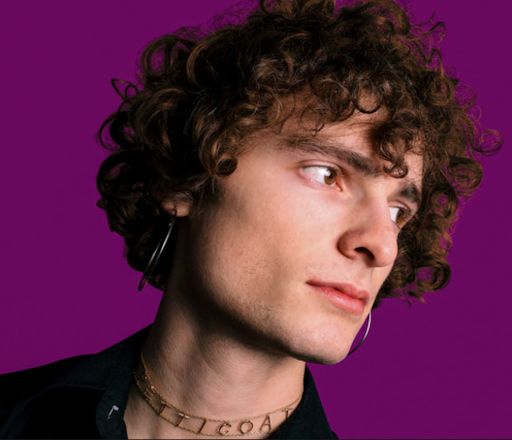 Olivia Nangle, Contributing Writer
November 6, 2019
A few months ago, I stumbled upon the solo project of San Francisco native David Halsey, aka Petticoat, on SoundCloud when he posted a link to his single "Ferrofluid" on the PC Music subreddit.
I was immediately hooked. I stalked his entire SoundCloud and Spotify discography, which includes his latest EP, "InFormat," along with a handful of older singles dripping with dazzlingly ambient sounds and futuristic onomatopoeia-like titles like "Ointment" and "Mojito."
Halsey creates quick and dreamy electronic tracks riddled with 8-bit samples and high pitched hooks, such as a track called "Whip" that could easily serve as soundtrack to the infamous Rainbow Road from "Mario Kart."
The Fordham Ram had the chance to chat with Petticoat to discuss Madonna's impact, niche Twitter and the future of pop, among other things.
Q: Would you say that PC music is incredibly ironic or deeply authentic in that it's a genre that attempts to emulate a time period that's passed?
A: I think it's kind of ironic in that it's an experiment with sound. You have these attributes that people might not altogether love, such as squeaky voices and bubblegum riffs, but it strikes a chord with certain people. It's the identity of pop music. I think what PC music artists are doing is genius because, sure, sometimes it might sound crazy, but there's no music that accentuates these characteristics of pop music. It's sort of a progressive vision of what music could be. Just like pop music from the early 2000s, like Britney Spears and Christina Aguilera, there is an eye towards futurism.
Q: What kind of music were your parents playing while you were growing up that influenced the music you make now?
A: There was a lot of Madonna. My mom loved Madonna and Cher, but mostly Madonna. She had these two albums, "Ray of Light" and "Music," which were her change to pop in the 2000s. My mom and dad loved Depeche Mode and a lot of '80s new wave bands. That music had this very unique rhythm that I really liked. It's something that strikes a chord with people and is fun to dance to, and I think at the core of it is why I connected with it so much.
Q: So I actually found one of your singles on the PC Music subreddit, have you been able to successfully connect with your ideal audience through this platform?
A: There's actually been a lot of people who found me on there. At first, there was one post where someone said "recommend me some non PC music artists" and someone responded with "Petticoat" and then I found out. So now there's been people hitting me up on Instagram asking if I can make music for them and stuff like that. So, that one little subreddit has been kind of crazy. I think the audience for PC music is definitely interesting. It's also very eclectic, and they're all die hard fans who like to troll, but it's a really tight knit community with an interesting identity.
It's also funny because I checked out some of them on Twitter and they share different memes that no one else has heard of. It lives and dies within their community, and I tried to quote them one time to my friends and everyone was so confused. I really thought it was a lot bigger.
Q: How and when did you learn to create and produce music?
A: I've been making music for, I think, nine years now. I went under a bunch of different monikers with a friend of mine, but we wanted to do something more interesting, so we decided to do solo projects.
Q: What's your first step in writing a song?
A: My first step is usually the lead or melody. I try to get a barebone melody down and then I sprinkle it with little finite details that describe who I am. If you listen closely to my music you can hear these glitchy, 8-bit sounds which are actually sampled from "Final Fantasy," which is a video game I used to play growing up. There are little things here and there, and these details show who I am and my personality. I love sampling different forms of media that are dear to me, so after a while I just layer until there is a product that's a biproduct of my own creativity and ultimately who I am.
Q: Do you think pop music as a whole is headed in a more experimental direction?
A: I think pop music will continue to be experimental because people won't want to hear the same thing over and over again. Recently, we've started to see world trends going to pop music like dancehall, Afrobeat and K-pop. We're going very global, but that can only sustain the scene for a certain amount of time. Personally, I think pop music will start to cut back and go to the bare essentials, like simple drums and melodies. Just look at rap — it's currently evolving and getting more and more stripped down. Kicks are being erased and being replaced with massive 808s, melodies are way simpler and the mixing of these beats are gritty and raw nowadays.
I think pop music is one of the hardest genres to create because it's popular music, and it has to strike a chord with a lot of people. It will become a lot more experimental, but it won't happen fast. PC Music is a kind of crazy, off-balance strike of lightning movement, and obviously it's going to separate people based on who likes it and who doesn't. But I think PC music will root itself in what we are listening to in the coming years.
Q: How have other experimental artists influenced you?
A: Early on, I was a really big dubstep kid. I started listening in seventh grade, which inspired me to make music. I was with a friend and we started making dubstep which oddly built character. I loved building crazy sounds and landscapes. After a while, I started expanding my horizons. Artists like Rustie, S-Type, Hudson Mohawke and SOPHIE (who all come from Scotland) helped me realize what music could really be. Although electronic music is based around sound design, melodies and rhythms, you can also evoke messages and feelings as well. These artists and many more find a way to express themselves sonically through melody and design, and that's what makes them unique.
Q: Who are some artists you've been listening to lately?
A: Right now, I'm listening to a lot of '80s music like Tears for Fears, Howard Jones and Soft Cell. I've also been listening to a lot of Arca, JME, J Stalin, Messy Marv, Dark0, White Armor, Yves Tumor, Madonna and Siba.
Q: What's next for Petticoat?
A: The music that I'm working on right now is different than what I've released in the past. I'm focusing on some collaborations right now. I'm also putting my own vocals on my own tracks. Right now I find myself singing and editing in a sort of vintage style, with big choir-y effects and a bunch of delay. Basically, right now, I'm just creating, creating, creating and figuring out what I want to do next. In 2019, what you'll find is more singing, more vocals and more thought-out tracks from Petticoat.