Ben Rhodes Discusses Tenure as Senior Advisor to President Obama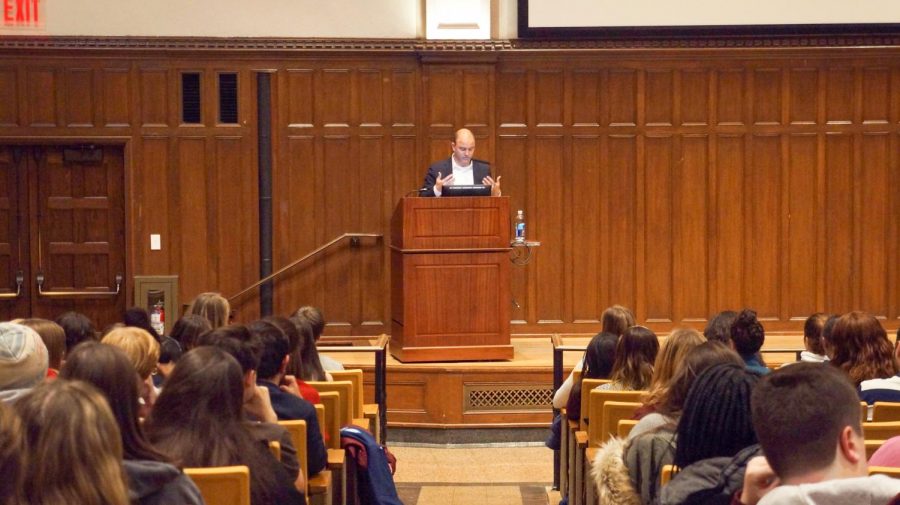 Sophia Giatzis, Contributing Writer
November 20, 2019
The College Democrats hosted Ben Rhodes on Thursday, Nov. 14, for a speaker event in Keating First. Rhodes spoke about the international order outside of the United States, relating it to American democracy and the House impeachment hearings into President Donald J. Trump this week.
Rhodes worked as a senior advisor to President Barack Obama, beginning as a speechwriter in 2007 and serving as his deputy national security advisor for two presidential terms. In 2018, he published his New York Times bestselling book, "The World as It Is," discussing the most important moments of Obama's presidency. He is currently a regular political commentator for MSNBC and cohosts a podcast, Pod Save the World. Rhodes, along with his cohost, Tommy Vietor, discuss foreign policy and global issues.
President Michael Fissenger, FCRH '21, said his club contacted Rhodes through the Harry Walker speaker agency. He said the College Democrats ultimately chose him to speak because they thought he would provide club members with insight into the political world and working in politics.
"I think his time in the Obama administration was extraordinary," said Fissinger of Rhodes' experience. "Being the only senior advisor to serve all eight years of the administration and work on cool projects like the normalization of our relationship with Cuba and the implementation of the Iran Nuclear Deal are exceptional legacies to leave behind."
Rhodes said he noticed two trends that were evolving before President Trump started campaigning for the 2016 elections: that China was asserting themselves as a leading world power and that the U.S. was no longer the big player in international politics. Rhodes pointed out that though China was this emerging power, they did not want to mobilize diplomatic forces to deal with international issues.
"What we found is that the United States is still kind of the cornerstone of the capacity to mobilize other countries around collective action on a challenge, like climate change or global economy or migration, technology, which we're dealing with now," said Rhodes. "But you know, given the changing world that means it's more important than ever that democracies, countries that share a common set of values, work together."
He discussed Russian President Vladimir Putin and how the "strong leader" trope was appealing to right-wing groups in both Europe and the United States. He said these trends were happening before the 2016 elections, and thus, it is not impossible to return back to a democracy that accurately reflects the values of the people.
Rhodes said President Barack Obama warned Chinese officials of the possibility Trump would start a trade war with them. He recalled what Obama had said to him after that meeting.
"He said, 'We're about to find out how resilient our institutions are at home and around the world,'" said Rhodes. "And that's exactly where we find ourselves. And that is ultimately what this impeachment process is about. Whether the institutions of American democracy are more resilient than a strong leader, and whether the world is going to go down this kind of divisive and dangerous road plowed by a 'strong-man' like Putin — or I'd say, Trump."
Rhodes asked if Americans really want to live in a country where the U.S. president uses foreign assistance as leverage to pressure foreign companies to investigate political policies. Rhodes said he feels that Republicans are well aware of Trump's actions, but they simply do not care — which he said is the most concerning aspect.
"But the one thing I learned in years in politics is, it's not worth being in politics if you're not committed to doing what you think is right," said Rhodes. "And if you look like you're just trying to do what your opponents might tell you to do, you look like you're calculating your every move for the political advantage. You look like you aren't acting on what you actually believe because you're afraid of what the other side is going to say. You're going to lose anyway."
Rhodes then discussed the 2020 elections and pointed out how much a president can accomplish with an extra four years. In Obama's second term, Rhodes said the administration implemented Obamacare, restored relations with Cuba and legalized gay marriage.
Rhodes said he has hope that having a Democratic president in the next year will return affairs to a calm state. However, Rhodes said if Trump remains in power, people around the world and Americans in the future will wonder if they were okay with such a corrupt president. Though
Rhodes presented these two drastically different outcomes, he said that he has hope and shared a text conversation that he had with Obama after the 2016 election.
"I said, 'Progress doesn't move in a straight line,'" said Rhodes. "It was all I could think about, and he wrote back immediately, he said, 'History doesn't move in a straight line, it zigs and zags.'"
Rhodes said he wanted to leave the audience with a message that the Democrats — especially the younger generation — can reject disinformation and attempts at dismantling the Democratic party, and prevent the message of hate from defining their values with sheer numbers and agency.
He recalled the days when he was working with Obama in Iowa, describing a young group who thought they could change the world — and, he said, they did.
"Most people are fundamentally decent but they need an example," said Rhodes. "We are going to have to mobilize in a way that I think we haven't in recent years. We're going to have to demand that institutions, politics and cultures around us are going to have to reflect our values and not the values that are currently being imposed on us."