El Grito de Lares Hosts First Rep Your Heritage Event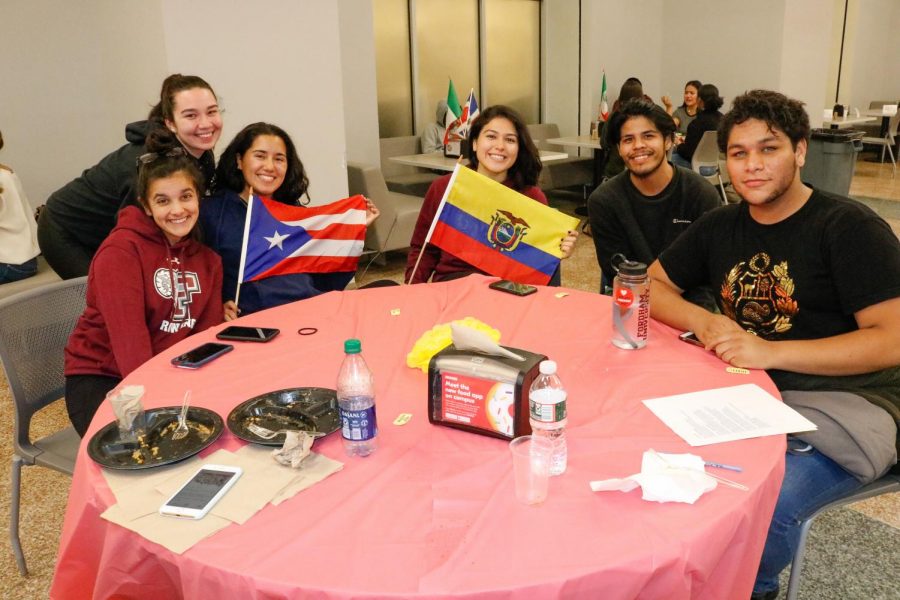 Sarah Huffman, Assistant News Editor
October 16, 2019
El Grito de Lares turned North Dining into a colorful event space for the first-ever Rep Your Heritage event. The club used brightly-colored tablecloths and centerpieces along with flags from various Hispanic countries to brighten up the room.
According to Taína Colón, FCRH '21, president of El Grito de Lares, the club held the event to celebrate the end of Hispanic Heritage Month. At the event, it gave out flags, played Latin music, served Colombian food and watched live performances.
Candela Latina, the Latin dance group on campus, performed a traditional Dominican dance and a hip-hop dance. Matthew Mattias FCRH '21, a singer from the B-Sides, sang a Peruvian folk song and a song from the movie "Coco." An Afro-Latina jazz ensemble performed, playing traditional drums and mostly Carribean songs. The Satin Dolls performed their American repertoire.
"Fall is mostly just celebrating Hispanic Heritage Month and just orienting the freshmen, and kind of getting the club together," said Colón. "This year we're trying a lot of new things, like this event. We're having our poetry slam next week. That's our second annual poetry slam."
Estephanie Peralta, FCRH '21, said she goes to club meetings weekly and has friends on the e-board, and she came to the event to support them and the culture. She said it was nice to be together, eating food and having pride for their flags.
"I came tonight to have food that was my culture and to be around people the same culture as me," said Samantha Santiago, FCRH '21.
Rep Your Heritage was the closing event for a month of Hispanic Heritage Month celebrations. Colón said they had a kickoff event and a meeting solely for Spanish speakers, where they talked about music and Latin culture.
El Grito de Lares often collaborates with other clubs, such as ASILI, The Black Student Alliance at Fordham, and more recently with Carribean and African Students Association (CASA). Colón said most of El Grito de Lares is from the Carribean as well, so many of the events El Grito de Lares hosts are collaborations.
"A lot of our events are very inclusive, it's not so focused on Hispanic or Latino because a lot of our members or even the e-board itself is so mixed," said Colón. "And also a lot of cross-cultural stuff. Like for myself I'm Puerto Rican and Jamaican, so yes I'm Latino but I'm mostly West Indian, like I'm completely from the Carribean and a lot of our e-board relates to that. So, we have a lot of going back and forth between identities."
As for events the club hosts throughout the year, she said a lot of them involve club members sitting together, eating food and listening to music. Colón said every semester the club has a Latin dance workshop, where they learn dances such as salsa, bechata or merengue. In the spring, they host their biggest event of the year, the Latin Gala. Colon said last semester, they had over 300 guests, a huge performance and food.
"It's a huge party on campus that not a lot of people know about, but it's so much fun," she said.
Colón said El Grito de Lares is important to the Fordham community because the campus is mostly white in a neighborhood that is predominantly Hispanic, Latino and black. She said the club is also important because many of their members are commuter students.
"Our club is like a safe haven for us almost," she said. "It's a way for us to go back to where we are used to. A lot of people went to only minority high schools, to come to Fordham is a bit ostracising. Also, just awareness that we are on campus and we're here, we're loud, we're also getting our education."
Colón said they do a lot of collaborations with other clubs such as Students for Environmental Awareness and Justice (SEAJ), Fordham University Philipine American Club (FUPAC), ASILI, CASA and more.
She said their club, along with all the cultural clubs on campus, is important to forming unity. Additionally, these clubs are a way for commuters to meet each other and for residents to get back together.
"Like I said, we are mostly commuters-based, so it's a very tight knit group, and it's hard for a lot of us to relate to a lot of the other students on campus, who are predominantly white, privileged, are not commuting," she said.
Moving forward, Colón said she wants more people to learn about them and join her club, especially early on. She also said she wants El Grito de Lares to be more respected on campus.
"We're definitely kind of one of the clubs that's kind of kicked to the side a little bit," she said. "OMA [Office of Multicultural Affairs] has really helped in mitigating that, but we also need the support of the rest of Fordham faculty behind us."