Former New York City Mayor Michael Bloomberg Considers 2020 Presidential Bid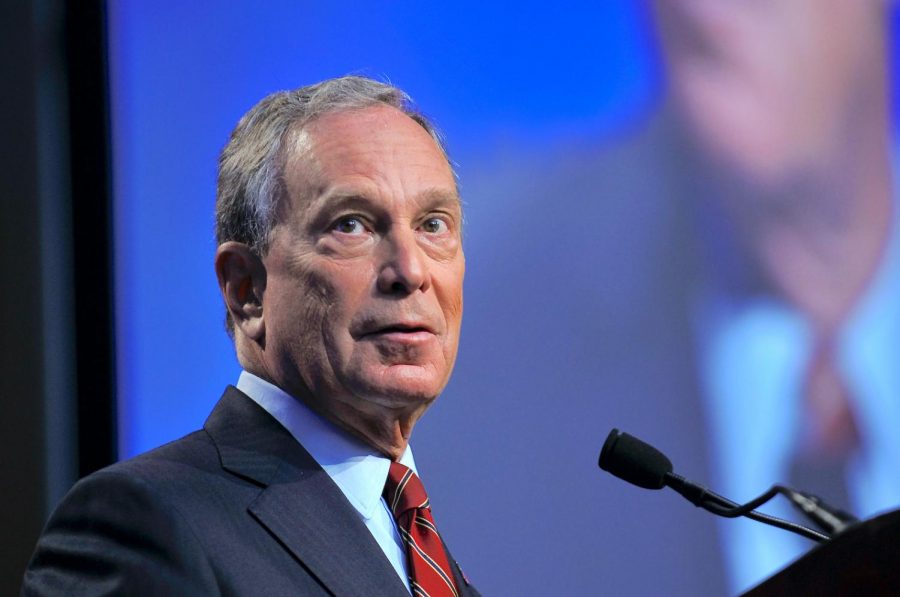 Eliot Schiaparelli, Assistant News Editor
November 20, 2019
Current New York City Mayor Bill de Blasio dropped out of the Democratic primary in September, but now his predecessor Michael Bloomberg is taking steps to join the 2020 race.
Much like President Donald Trump did before his run in 2016, Bloomberg has toyed with the idea of a presidential run in the past, particularly in 2008 and 2016.
However, for the first time, he has taken concrete steps toward running. Although Bloomberg ran for mayor in New York City as a Republican, the recent reports of his run came when he dispatched staffers to gather signatures to be added to the Democratic ballot in Alabama. Around the same time, he contacted major Democratic donors and influencers, and even more recently has apologized for some of his controversial actions as mayor.
"I can't change history. However, today I want you to know that I realize back then I was wrong and I'm sorry," Bloomberg said.
He made his apology for the controversial Stop-and-Frisk policing policy at the Christian Cultural Center in Brooklyn on Nov. 17. Opinion sections from local New York papers were divided on whether the apology was necessary or sincere. One opinion piece in The New York Times titled "Bloomberg's Bogus, Belated Mea Culpa" accused the former mayor of pandering with his apology for the so-called racist policy.
Another New York Times column argued the policy was necessary for Bloomberg's White House aspirations. Titled "Bloomberg Apologizes for Stop-and-Frisk at Just the Right Time," the article detailed the mayor's comments on the policy both while he was mayor and after.
Stop-and-Frisk was not the only high profile policy Bloomberg enacted during his tenure as New York City mayor from 2002 to 2013.  He helped ban smoking in bars, restaurants and other public spaces, made policy to curb obesity and was a major proponent of Citi Bike in New York.
More recently, as he prepares for a possible presidential run, Bloomberg pledged $500 million to his "Beyond Carbon" initiative, which is working toward switching the United States from relying on coal and natural gas in favor of renewable energy.
Brianna Lyman, FCRH '20, who identifies as a Republican, said should Bloomberg go head-to-head with Donald Trump in a general election, there is no way she would vote for him. Lyman explained that she believes Bloomberg has wavered too much on certain issues which would hinder him on the debate stage.
"I don't see him as a centrist option. I also see Stop-and-Frisk – he just apologized for it," said Lyman. "I think that when it comes to a debate stage, Trump will throw that back in his face and all the other Democratic candidates will do the same."
Natalie Migliore, FCRH '20, often covers New York City politics for Fordham's on campus NPR affiliate, WFUV. She self-identifies as an independent and said Bloomberg has a chance in a way de Blasio never did.
"I say go Bloomberg — he's going to give Trump a run for his money and he runs a successful business," she said. "The city, as far as I know, was thriving — he did have a tough Stop-and-Frisk policy that everyone keeps using against him but honestly, I say he can handle it. The only thing I'm not sure about is how often he's switched parties."
When he first became mayor in 2002, Bloomberg ran as a Republican, but when he ran for his third term he switched his affiliation to be an independent. Last year, he switched his party affiliation to become a registered Democrat, a move that also sparked rumors that he was planning to jump into the presidential race.
Brianna Wagner, FCRH '21, who identifies as a Democrat and often attends College Democrats meetings, said so far she favors Kamala Harris and Elizabeth Warren in the primary.
"A lot can change, but right now, I don't see Bloomberg having a chance with my demographic," said Wagner. "We're energized by these strong female candidates, and he has not yet done anything to differentiate himself from other older, wealthy male candidates."
Bloomberg has a net worth of $53.6 billion, making him the ninth richest person in the world, according to Forbes' list of billionaires. Many Democrats are concerned that he would funnel a lot of that money into his campaign at a time when many Democrats are trying to turn to grass roots funding and plan to tax the rich.
Another main concern with Bloomberg's candidacy is its timing. Given how late he would have to start campaigning in comparison with other Democrats, his advisors say he would skip the early primary states.
An op-ed for New York Times, entitled "Why N.Y.C. Mayors Have White House Dreams (and Voters Dash Them)," contended that New York City mayors are rarely able to trade Gracie Mansion for the White House. In 2008, Rudy Guiliani was unable to convert his political success in New York into a successful bid for president, and, in 1972, John Lindsay failed to win the nomination. The article claimed that different talents are necessary for each job.
In 2009, while he was mayor, Bloomberg gave Fordham's commencement address and was given an honorary degree by the university. He referenced Mugz's, frequently visited by Fordham undergraduates, and reminded students to call their mothers no matter where they ended up in life.
The Fordham College Democrats e-board refused to make a statement specifically on Bloomberg's candidacy given that he has not officially announced his run and that they do not release opinions on candidates before the primary.
They did say that anyone who plans to vote in the primary should attempt to learn everything they can about each candidate so that they can make a well-informed decision.
Olivia Ingrassia, FCRH '21, vice president of College Republicans, said she thinks it is unlikely that Bloomberg would get the nomination if he ran.
"We feel that Trump will succeed against any of the Democrats they are putting up, we haven't really seen (Bloomberg) yet and we don't really know how he'll fare against the other primary candidates so it's too early to tell," said Ingrassia. "He's more moderate than Elizabeth Warren and some of the other people on the left so it seems as if the party is heading toward a further left faction, so I don't know if he'll gain much traction. "
Ingrassia said no matter who gets the nomination, almost all the members of their club plan to vote for Donald Trump.