Commuter Week Brings Worldly Festivals to Fordham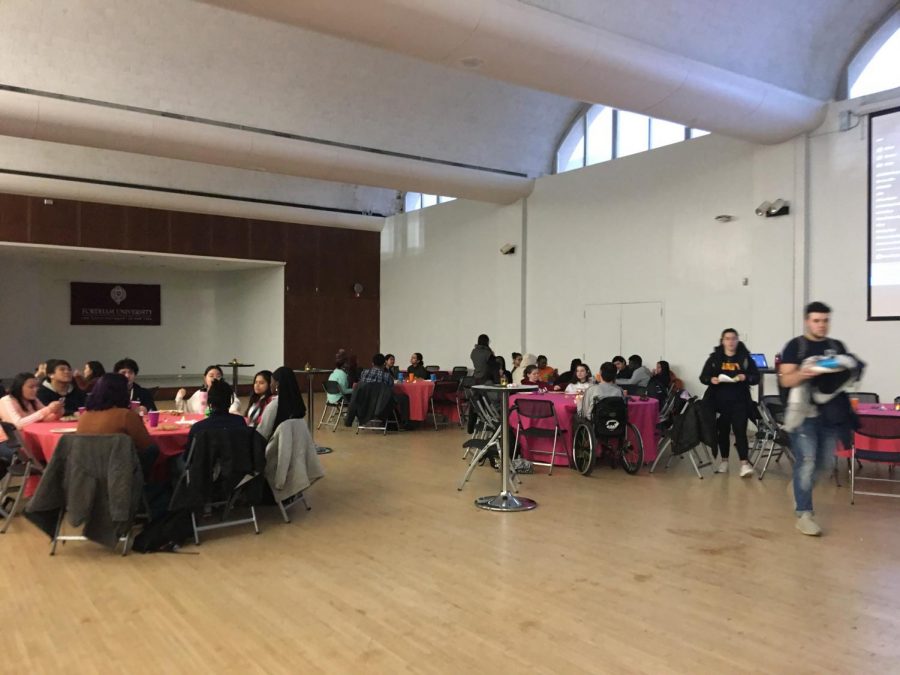 Sarah Huffman, News Editor
March 25, 2020
The Commuting Students Association (CSA) hosted this year's Commuter Week throughout the week of March 2. The week included five themed days of events. Monday was Ramchero Rodeo with a mechanical bull. Tuesday was Frost Fest, which featured an ice rink in McGinley second. Wednesday was Ramchella, based on the music festival Coachella. Thursday was Rio de Rams, and the week concluded with Rams' Night Market on Friday. 
"My personal favorite was Monday's Ramchero Rodeo event planned by the senior board which featured bull-riding," said Kaidya Adames, GSB '20, CSA president. "I rode the bull about five times and was sore for a day or two afterward, but it was worth it!"
Guy Savino, GSB '22, CSA program coordinator, said the bull at Ramchero Rodeo was also his favorite.
"It's harder than you think," Savino said.
Salma Youssef, FCRH '20, CSA vice president, said she loved Frost Fest because she got to ice skate indoors with her friends.
"It was great to have my friends teach me how to skate in a fun setting," said Youssef.
Adames said this year's Commuter Week theme was inspired by festivals around the world, such as the Running of the Bulls in Spain, the International Ice and Snow Sculpture Festival in Harbin and Coachella in the U.S.
"We wanted Fordham to have its very own festival with daily fun activities for students to enjoy including bull-riding and ice skating," she said.
Savino said they wanted to give the whole Fordham community a chance to experience each "mini" festival. He said they wanted to make each day unique from the others.
Adames said this year's planning process involved each general board and the executive board to plan a fun event for each day of the week.
"We wanted to have interactive events for each day of the week along with delicious food and prizes," she said. "We came together during our spring retreat in February to plan out the week." 
Savino said this year's Commuter Week was different because it did not include CSA's annual event, Rams Got Talent.
"We wanted to reimagine this talent show with USG, DAC, ASILI and the Bronx African American History Project through an event called Mic Check that would include performers from around the Bronx as well as Fordham talent," said Adames.
The event was canceled due to the coronavirus, but CSA hopes to have it next year, Savino said.
Youssef said Commuter Week was special this year because it helped to take people's minds off of COVID-19 scares and enjoy their time on campus.
"I am so glad we got the chance to have Commuter Week before the school closed," she said. "The current events actually helped us come together and create a light atmosphere for people to distress which makes Commuter Week 2020 extra special."
Savino said the events they did have were successful and had great turnouts.
"Commuter Week is an important week of events for the Fordham community because we, representing the body of commuter students, are able to display that we always have a place on campus, whether that be in the student lounge, library or at an event," said Savino. "We are able to create these events due to the commuter population, in turn giving back to them for their support."
Youssef said Commuter Week is an opportunity to bring together commuters and residents through engaging programming held at commuter-friendly times.
"This week of events is important to the Fordham community because commuters are an often overlooked population on campus, and Commuter Week is our way of celebrating our community and bringing the community closer together," said Adames.