Major Championship Breakdowns, Part I: The 2013 Masters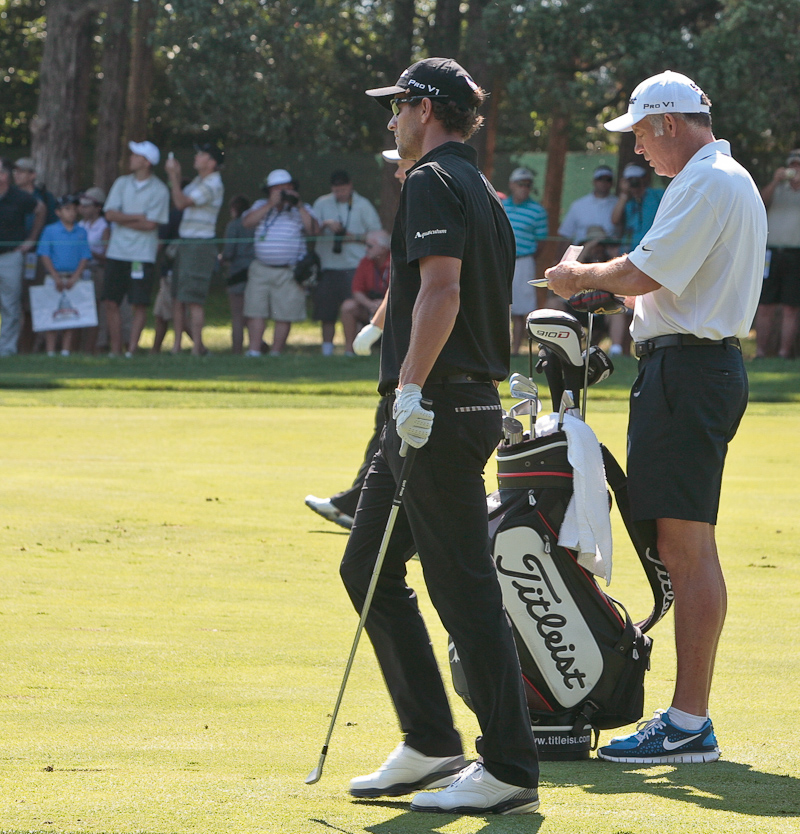 There has been a trend circulating golf Twitter as the coronavirus postpones three golf majors to later in the year and cancels a fourth, and that is to re-watch the final round broadcast of a major championship and discuss the events like they just transpired last night. Let's begin where we should have been this past weekend and that is the Augusta National Golf Club and the 2013 Masters tournament. You can find this video and follow along on YouTube.
The 2013 edition of the Tradition Unlike Any Other is a personal favorite of mine. The 77th edition of the tournament was played from April 11 through 14 and is most notable for the dramatic playoff finish in the rain.
Our 54 Hole Leaderboard, which Jim Nantz called "one of the most congested leaderboards we've seen here in years":
Angel Cabrera (ARG): -7
Brandt Snedeker (USA): -7
Adam Scott (AUS): -6
Jason Day (AUS): -5 
Marc Leishman (AUS): -5 
Matt Kuchar (USA): -4
Tim Clark (RSA): -3
Tiger Woods (USA): -3
The first shot shown is Champions Tour legend Bernhard Langer drilling a birdie putt on one. He would go on to make birds on two and three. He played well at the beginning, but a bogey on 10 brought him back down to 2-under, and he ended over par for the tournament.
The Low Amateur was Tianlang Guan, the 14-year-old Asian-Pacific Am Champion who placed 58th. He is currently enrolled at the University of Arizona and on the golf team.
Also highlighted early on are Brandt Snedeker's Augusta demons. In 2008, he was two shots back of eventual champion Trevor Immelman after 54 holes. Snedeker would go on to shoot a 77, putting him at 4-under for the week, four back of Immelman. He looks for revenge.
Right off the bat, we have Adam Scott with a very yippy putt on one leading to a bogey, Cabrera pulling one left into the pine straw off the tee and Snedeker piping one down the middle. Snedeker looks calm, and everything appears to be going his way very early here. He drills the putt to get to 8-under with Jason Day, who started birdie-eagle after holing a difficult bunker shot on two. Cabrera saved par.
Scott makes par at the second, but gets a disappointing result on a getable par 5.
We have our first umbrella sighting at 58:40 with Brandt Snedeker in the second fairway.
Snedeker ends up in the front right bunker laying two on two. Difficult up and down for a birdie, but as David Feherty noticed, he seemed in very good spirits. Cabrera plays the slope and has a slick 12-footer for eagle. He misses the eagle putt and taps in a birdie, and there is a three-way tie atop the board. The bunker shot led to a downhill putt from about 10 feet for Snedeker. He just misses it. This was huge for Adam Scott in hindsight. He was still three back despite having to lay up on two.
Scott birdies, and Carbera and Snedeker par three. They keep mentioning the moisture on the greens and how the ball is slowing down as the drizzle begins; just something to note as we move forward.
The leaders are through three:
Cabrera, Snedeker, and Day: -8
Scott: -6
The rain is starting to pick up as the leaders putt out on four. Snedeker misses a par putt short left, dropping him to 7-under. The players are having trouble adjusting to the wet greens. Cabrera makes his par at the par-3 fourth. Day makes a bogey on six, putting Cabrera in the solo lead.
Snedeker makes another bogey on five, tying him with Scott at 6-under. The rain plays some sort of game mentally with Snedeker: he looked confident and calm on the first two holes, but four, five and six were all difficult holes for him as the rain began to pick up.
It was different for Cabrera however, as he makes his third straight par on six.
Adam Scott is playing the front nine very well. It's not ideal, as the front is usually very getable, but in this rain, he is on the par train which is good enough to keep him in the mix. The back nine is much more difficult, of course, but Scott looks good and putts well, which he hasn't always done in his career.
Snedeker pars the sixth and seventh while Day pars the eighth. Nothing terrible, but Cabrera is playing the best golf right now after his birdie on seven.
After a Day bogey at nine, Cabrera has a three-shot lead over Snedeker, Day and Scott. Cabrera pars and Snedeker birdies, bringing the lead to two through eight.
The leaders make the turn:
Cabrera: -9
Snedeker: -7
Scott and Day: -6
Both Cabrera and Snedeker make bogeys at 10. Cabrera still leads Snedeker by two headed into Amen Corner.
Marc Leishman had been plotting around the course, then he makes two birdies, one on nine and another on 11 to get to 6-under. He puts one on the green at 12, which is no easy task, as does his playing partner Adam Scott. Both Aussies hit nice lag putts and tap in for par.
Snedeker had a long birdie look on 11 but left it woefully short, leading to a lengthy par attempt. Cabrera also had a long look at a birdie, leaving his five feet short. Snedeker misses, another bogey dropping him to 3-over on the round and 5-under for the week. Cabrera makes his and remains 8-under.
That phrase "The Masters doesn't start until the back nine on Sunday" could not be truer for Snedeker. He struggles, and it shows in his body language on the first two holes. Cabrera plays it safe on 12 and makes a par from the other side of the green, while Snedeker is about 20 feet for his birdie, and cleans up for three.
Meanwhile, Day has a great sand save from behind the 13th green for his birdie on the par-5 to get him to 7-under. At this point, he is 8-under on the week on the par 5's. The other two Aussies are right behind him. Leishman makes a par on 13, remaining at 6-under, while Scott buries a birdie to jump up to 7-under par.
The rain is starting to come down harder as Snedeker hits, to this point, the most important shot in his round: the approach on 13. He pushes it way right, and it skips on the fairway side of the creek and drops right into Ray's Creek. No chance of an eagle, a very small chance of a birdie and he is two back. Cabrera then hits from the pine straw. It bounces off the front of the green and into the creek.
Day follows up his birdie on 13 with another on 14 to tie Cabrera for the lead as he steps up to the 15th tee. He gets a huge break as his tee shot slams off a tree and into the fairway. Simultaneously, Cabrera misses his par putt at 13, giving Day the solo lead. Snedeker makes his par to stay alive. Barely breathing, but still alive.
The leaders are through 13:
Day: -8
Scott and Cabrera: -7
Leishman: -6
Snedeker: -5
Scott misses a birdie putt for the share of the lead at 14. The broadcast is talking about how his putting had improved back on 13, which is true, but missing makeable birdie putts has kept Scott from being in contention in many majors throughout his career.
The rain increases dramatically as Snedeker hits a poor tee shot on 14 and makes a bogey, dropping to 4-under, effectively ending his afternoon.
Jason Day makes his third straight birdie, a four on the 15th to give him a 2-shot lead headed to the par-3 16th. Moments after Day clears the green, Adam Scott places one in the middle of the green, giving himself a long look to tie.
Marc Leishman sends his ball into the drink on 15, and his afternoon is over as well.
Cabrera hits one far right off the 15th tee, and it appears that everyone is collapsing around Jason Day as he tees off on 16. Day's shot goes long, off the green, and he will have to get up-and-down for par. He tries to putt from off the green and leaves himself a lengthy look at par, which he misses. Day is back to 8-under as Scott makes his birdie on 15. Two Australians tied at the top.
At this point, only Day, Scott or Cabrera can realistically win the jacket.
Scott gives himself a chance for the lead on 16, but misses it left and taps in for par.
Jason Day leaves his approach on 17 short, leading to a lengthy bunker shot. He would bogey the 17th for the second straight day, dropping him to 7-under par.
Cabrera joins Scott at 8-under with a huge birdie roll at 16, both with two to play, and Day has one more chance to get his score to 8-under at the 18th hole.
Both Cabrera and Scott par 17, and Day pars 18 to card a 71, leading to unbelievable drama at the 72nd hole.
Scott is playing in the group in front of Cabrera. As Cabrera pipes his drive down the 18th, Scott is lining up his birdie putt, one that will put a stranglehold on the tournament and get him to 9-under. It's getting noticeably darker out, leading fans to believe the tournament might have to be completed the next day.
"Adam Scott … YES!" Simple but poignant from Jim Nantz as Scott rolls it in from outside 20 feet to take the lead. The celebration has become famous: the fist pump in the rain as he screams "C'mon Aussies!" All while Cabrera awaits.
Then, the 42-year-old hits the shot of his life. The rain is coming down harder than it has all day. He had never birdied the final hole in the final round, but now he needs to. Right after he makes contact, he walks after it and starts barking at the ball to bite, and bite it did. Two skips and a stop within three feet of the hole. It's a whole new ballgame.
Both Cabrera and Scott finish 72 holes at 9-under par, leading to a playoff. The format is such: the two players begin on the 18th hole and whoever has the better score on that one single hole wins the Masters. If they tie, they go to the 10th, so on and so forth.
Both players drive it into the fairway, leave their approaches short and get up-and-down for par. Identically played, two pars, and on to 10.
Scott hits first off the tee and it is textbook, right in the fairway. Cabrera took iron after he put one into the trees during regulation on the 10th and nearly matched Scott. 203 to the hole for Cabrera, 196 for Scott. Cabrera hits a nice approach to about 25 feet despite hating it off the club. Scott lands his just inside of Cabrera's, a putt-off for the green jacket.
As they approach the green, Nick Faldo says that Scott's putt is "easier on the break" and not quite as fast as Cabrera's.
Cabrera's just barely misses; it hangs up above the hole by maybe a half-revolution. Adam Scott now putts for the championship. After a lengthy read with caddie Steve Williams, Scott pours it right in the heart.
Jim Nantz calls it a "life-changer."
Australia's first, and as of now only, green jacket belongs to Adam Scott, as he walks off the 10th green arm in arm with Cabrera.
"Incredible" was the word Scott repeated in Butler Cabin.
It is an awesome Masters tournament that gets lost in the shuffle of the Rory collapse of 2011, the Speith dominance of 2015 and Tiger's triumph last year. 
Next week, I'll have something on a past PGA Championship as we look to dive into some old major championships during quarantine.