Major Championship Breakdowns, Part II: The 2004 PGA Championship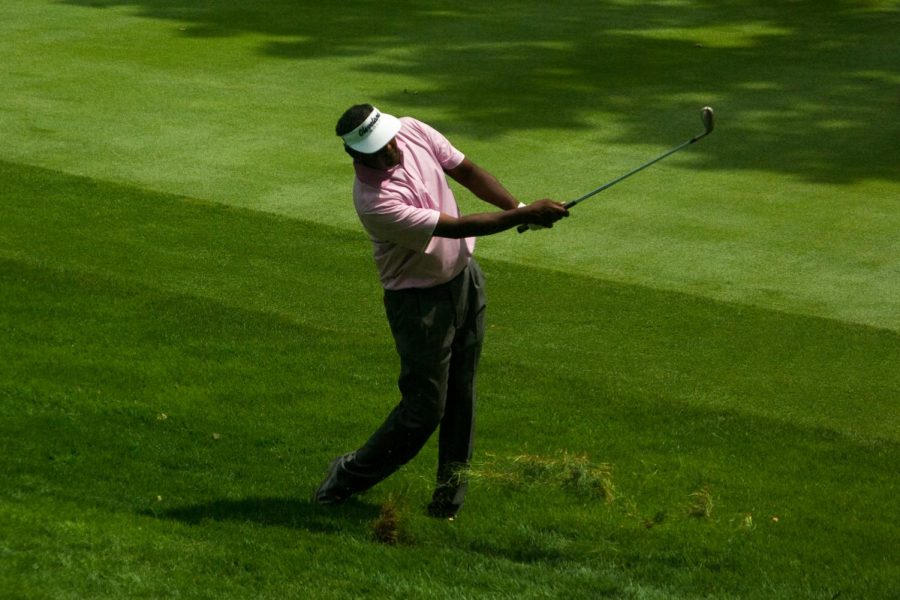 Chris Hennessy, Staff Writer
April 19, 2020
Hello friends. We are back this week with another major championship breakdown. After our run through the 2013 Masters, we are moving back in time to the 2004 PGA Championship. The 86th PGA Championship was played at Whistling Straits in Kohler, Wisconsin, the first major championship held at the course since its inception in 1998. Whistling has since held the 2010 and 2015 PGA Championships, won by Martin Kaymer and Jason Day, respectively, and will be holding the Ryder Cup this September. 
The 54-Hole leaderboard 
| | | |
| --- | --- | --- |
| Vijay Singh | Fiji | -12 |
| Justin Leonard | United States | -11 |
| Stephan Ames | Canada | -8 |
| Darren Clarke | Northern Ireland | -8 |
| Ernie Els | South Africa | -8 |
| Phil Mickelson | United States | -8 |
| Chris Riley | United States | -8 |
| Chris DiMarco | United States | -7 |
Vijay Singh was a two-time major champion at the time and had won the last seven times when he held a 54-hole lead. He was playing with Justin Leonard in the last group. 
As groups begin to tee off, starting with Els and DiMarco off number one, the broadcast mentions that the greens are rolling at a 13 on the stimpmeter, which is bonkers. The stimpmeter is a contraption that releases a ball at a known velocity and records how far the ball goes. The United States Golf Association (USGA) considers 8.5 fast. 13 is as fast as the fastest U.S. Open greens. 
Ok, onto the contenders: DiMarco, Els, Mickelson and Riley par number one.
Els and DiMarco head to the third, where Els bogeys the par-3 and drops to 7-under. 
Singh misses a birdie putt on one and taps in for par. He is actively changing putting strokes; he was carrying a belly putter for a while, was experimenting with left hand low and was back to more of a conventional stroke. He struggled with putting at different points of his career, and this day was no different. 
Diverging from the leaders for a moment, Stuart Appleby putts out to finish the tournament T-17. On the 16th hole on Saturday he was assessed two separate two-stroke penalties and had to card a quadruple-bogey nine. He removed dead grass and grounded his club in what he thought was a waste area but was deemed a bunker. This quickly dropped him out of contention. Fast-forward 6 years: Dustin Johnson lost the 2010 PGA for doing the same exact thing. Definitely look that up, because wow, what a moment that was in 2010. 
The third hole is a long and difficult par-3. Mickelson double bogeys it and is now six back. 
Meanwhile, the final pairing is on two. Singh is attacking pins but makes his second straight par, and Leonard has a putt to tie but misses. 
Onto that par-3 third: Leonard hits a great shot and buries a birdie putt to tie Singh, who lagged his birdie putt up near the hole and tapped in for par.
Stephan Ames birdies three to jump ahead of the group at 8-under, and then birdies five to get right in the mix at 10-under par. 
Singh starts to spiral on the eternal par-4 fourth (over 500 yards). He pulls his approach left into a small bunker only a few yards from the shores of Lake Michigan. He splashed out of the bunker, but the ball hit the ridge and rolled into a different bunker. Singh would make double bogey while Leonard dropped his putt for par and all of a sudden had a two-shot lead. 
Mickelson makes a birdie at five to get back to 7-under.
Two more pars for Leonard and Singh at holes five and six, and the leaders are a third of the way through their final round.
Leonard: -12 
Singh: -10 
Ames: -8 
Els, Mickelson, DiMarco, Riley: -7 
Hole seven is a tough par-3, as detailed on the broadcast. At 233 yards, it is the seventh most difficult hole on Sunday. Both Singh and Leonard bogey. Singh is now 3-over through seven. 
Ames, coming off back-to-back bogeys at six and seven, gets a birdie at eight puts him in a tie with Singh, two back of Leonard. There's no footage of that one, but the coverage catches up with the Canadian to see him miss a birdie putt by a few inches, staying at 9-under. 
Singh sticks his approach on eight, and Leonard's rolls off the back. Both make par.
Els gives on back at 10 and can't make par after a great sand shot.
Tiger Woods finishes up at 18. After his T-24 finish, Jim Nantz asks, "How do you explain what's happened with Tiger?" Lanny Wadkins gets animated about Woods' swing change, saying "it should be working by now." He has not won a major since the U.S. Open in '02. Don't feel too bad for him though: in eight short months he captures his fourth green jacket. 
Singh and Leonard par nine. Singh makes the turn at 3-over 39, Leonard at even par 36. There are "nine holes to go for his second major" as Leonard walks by the Wannamaker trophy at the turn. 
As the leaders make the turn, DiMarco begins to roll a few groups ahead. Birdies at nine, 11 and 12 get him to 10-under, moving into solo second, one back.
Both players in the final group miss the green. Leonard now has to make the putt to stay in the lead, and he misses to drop into a tie. Singh makes his par, and the top of the leaderboard is very crowded. 
Leonard has a great drive on 11, and Singh misses left, another missed fairway. He has only hit two fairways so far. 
Now there is a slew of missed putts at the top of the leaderboard.
Mickelson birdies 11 to get to -7, only three back. On 12, he misses a birdie putt. Two straight birdies would have been huge for Mickelson to get on a roll as players fell around him, but he did not. 
DiMarco misses birdie putts at 13 and 14 to remain tied.
Another missed putt for birdie puts Leonard at 11, and Singh joins him for another par.
Leonard/Singh through 11:
Leonard and DiMarco: -10
Singh: -9
Ames: -8
Hole 12 is another difficult par 3. It's only 148 yards, but the green is diabolical, and trouble is all around the green. Singh's stops at the back of the green; Leonard gets it closer and stops it pin high. Both miss and tap in for par. Neither player is putting well, something that will certainly be key for the last six holes. 
DiMarco sails his tee shot way left on 15. He is just barely hanging on and not playing well since tying for the lead. He bogeys, giving Leonard the solo lead.
More players join the first page of the leaderboard as Els birdies to get to 7-under, Riley with a birdie to get to 8-under. 
DiMarco misses another fairway at 16.
Singh has another par at 13, and he is one of two players in the field with no Sunday birdies. 
Leonard shows true emotion for the first time all afternoon with a huge birdie on 13 to jump back to 11-under. A fist pump and a smile. Now it is starting to look like he could pull away. 
DiMarco bounces from one side of the fairway to another, from the rough to the bunker, and makes another disappointing bogey. Back to 8-under for him.
Leonard flies his approach just long at 14 while Singh hits the green and has another birdie putt. A complete misread from Singh leads to another par to stay at 9-under. Still no birdies for Singh. Leonard misses his par bid after a nice chip from behind. The lead is back to one over Singh and two over Els, DiMarco and Riley. 
Els misses his birdie, leaving about six feet for par. He makes a big putt to stay at 8-under.
Singh has a long approach into 15, so he takes a 9 wood, which I had no idea existed. He yanks it way left into the gallery and has to scramble to stay within striking distance. 
DiMarco makes par at the difficult par-3 17th hole to stay at 8-under.
Leonard hits what was declared on the broadcast "the kind of shot that wins majors." He takes a 3 iron from the fairway, and it rolls out to pin high. An eight-footer for birdie that might just put this thing away.
Singh gets robbed of a par at 15. A great putt rings out, and he drops to 8-under. 
Back to Leonard at 15: he misses that birdie putt and taps in for a disappointing par to stay at 10-under. 
Leonard and Singh through 15:
Leonard: -10
Els, Singh, DiMarco, Riley: -8
Els misses the green with his second on 18 after a poor drive. 
Riley misses the green at 17. He is going to need to make two pars to stay around. 
Mickelson gets an amazing bounce at 18 to get him on the green, which leads to a birdie chance. He is at 7-under with a chance to get to 8-under.
Els blasts his birdie chance long from the front edge of the green. Par puts him at 8-under with the clubhouse lead.
Leonard misses the green on 16, and an up-and-down for par would be huge. 
DiMarco misses a birdie and taps in for par; he is clubhouse leader at 8-under after Els misses and finishes at 7-under. Riley and Mickelson also finish at 7-under.
Leonard misses the par putt, he goes back to 9-under and it's a whole new ballgame.
The 17th hole was the fifth toughest hole on Sunday, while the 18th was the third toughest. It was a really tough finish.
Leonard lags his birdie putt on 17 close and makes a three-foot tester for par. 
Singh has a must-make five-footer for par that he sneaks in to stay 8-under.
Stepping to the 18th: 
Leonard: -9
Singh: -8
DiMarco: -8 (in clubhouse)
All Justin Leonard has to do is make par, and the championship is most likely his. 
Singh stripes 3-wood down the middle right to the far edge of the fairway. Leonard takes a driver and is in good shape. 
Leonard misses the green short, and it goes into a bunker. He was able to escape but left a 10+ footer to win. He misses just right and drops to 8-under. A playoff is guaranteed with DiMarco; now Singh can join.
Singh leaves about 35 feet for his birdie. Another two-putt par for Singh, and he gets in on the playoff party.
Singh, DiMarco and Leonard step to the 10th tee for the playoff. It is a three-hole aggregate score, going from 10 to 17 to 18. 
Singh smokes his drive to the front corner of the green after pulling a driver, while DiMarco and Leonard find the fairway with 3 woods. 
Leonard's approach sits on the back of the green about 15-20 feet from the pin.
DiMarco rolls off the back left side of the green after trying to stick it close and just missing. 
Singh spins it over the corner of the green and sets himself up nicely for his first birdie of the day. 
DiMarco makes a nice up-and-down for par.
Leonard misses close and taps in for par.
Singh now has a chance to take the lead, and he buries it. On his 19th hole of the day he makes his first birdie and takes the lead. 
A common theme across the broadcast is the upcoming Ryder Cup. If Justin Leonard wins this outright, he will get the automatic spot. DiMarco also needs points to lock up his spot. 
Back at 17, Singh sticks his shot to 10 feet for another great look at birdie. DiMarco's shot is on the far right side of the green, far from the pin. Leonard leaves his shot short. 
All of a sudden, Singh looks to have this locked up. However, Singh blows the chancer by missing the putt and settling for par. 
DiMarco hits a solid second shot and makes the five-footer for par to stay at even.
Leonard also makes his three-footer for par. This was not how Singh was thinking this was going to play out as he left the tee box.
All three players find the fairway off the tee.
DiMarco finds the bunker, a poor shot with the tournament on the line. He is going to need a minor miracle to survive. 
Leonard's approach lands on the front side of the green. He pitches it close and puts the pressure on Singh.
Singh steps up to his 30-footer for birdie. If he makes par, he wins. His first putt is close, and he decides to putt out and finish the tournament right there.
No birdies through 18, but -1 in the playoff for Vijay Singh's fifth win of the 2004 season. 
It's a great tournament at Whistling, as they all have been to this point. When the Ryder Cup heads to Kohler in September, look for the lightning-fast greens having huge impacts on the match play situations.
Next week, the 2006 U.S. Open at Winged Foot.