Senior Creates College Sublets App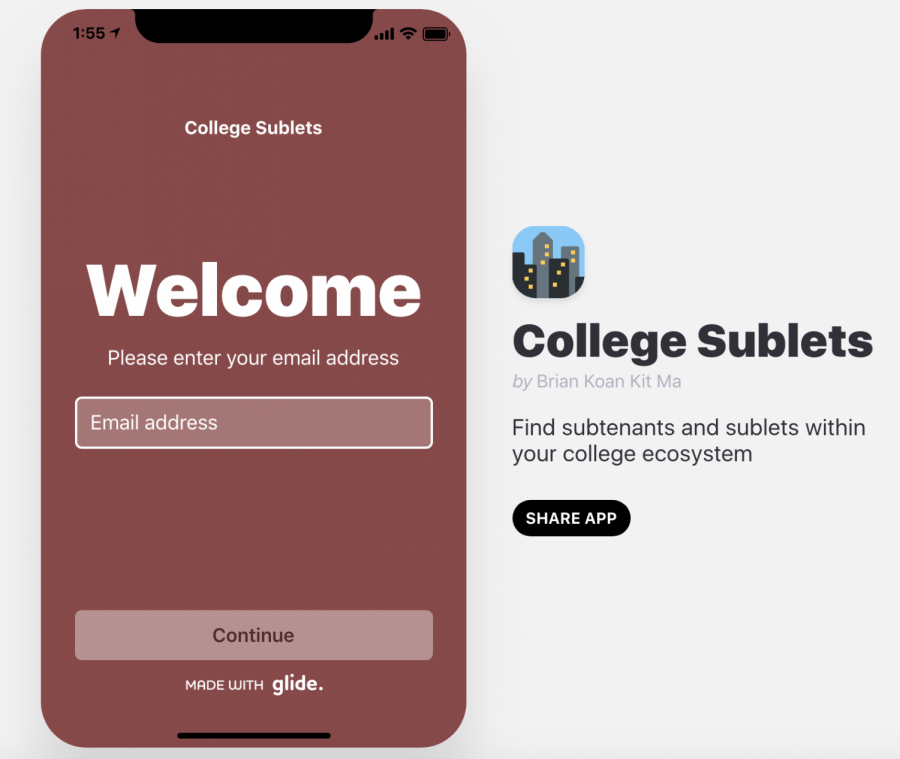 Melissa Leone, Contributing Writer
April 15, 2020
College Sublets, an application that launched in the fall of 2019 by Brian Koan Kit Ma, FCRH '20, has helped a number of students find subletters for off-campus residences. 
As an off-campus resident from his sophomore to senior years studying at Fordham,Ma said he experienced the difficulties associated with finding subletters during the summer of 2018 and decided that he wanted to help other students as well.
"The problem is that there are nine months in the academic year, but you have to sign a 12-month lease," said Ma. "For those three months during the summer, we weren't living in the apartment, but we were paying for it. There wasn't a solution that helped students find sublets or subtenants, so I created this app. The idea blossomed from there."
The app, available on iPhone, Android, iPad and computer, allows students to post pictures of the apartment they wish to sublet and to list the price of rent. Although it is not yet available on the App Store, students can go to College Sublet's website to find a downloading link and enter their college email address. They will then receive a pin number to gain access to the application and connect with other students. College Sublets also provides basic facts about subletting to guide students throughout their process.
Ma said that he was inspired by Fordham Foundry, an entrepreneurial hub that gives Fordham students, alumni and parents the support they need to jumpstart their own businesses.
"Fordham Foundry inspired me to keep my head up and to create a solution … a product that serves the greater good," said Ma.
 He also enrolled in Start-Up Venture Experience with Professor Milton Sussberg during the fall of 2019.
"This course gave founders a platform to learn about the entrepreneurship path," said Ma.
He said he used a platform titled Glide Apps to construct the College Sublets application and said that one of his long term goals includes coding an application from scratch.
Since its initial launch in September of 2019, the application has served 383 users as of April 9.
Ma attributes the growth of the initiative to a group of "early adopters" who were very eager to begin using the application, his own t-shirt campaign through Custom Ink to advertise College Sublets and a promo video he crafted to reach out to students via social media.
When asked about spreading the word for his brand, Ma described the methods he used and the vibrancy of the off-campus residential hub. 
"The Fordham community off-campus is enormous," said Ma. "Everyone talks to one another and it's a very nice environment, so definitely word-of-mouth and lots of guerrilla marketing in general." 
Ma was even able to hire interns for the company, including Ava Parisi, GSB '23.
"Thus far, my tasks have included but are not limited to: the creation of data spreadsheets, emailing current and past users to provide them with information or ask for specific feedback, and spreading the word amongst friends and other classmates," said Parisi.
Parisi said she learned about the internship opportunity at the 2020 Spring Career Fair and was drawn to the initiative's emphasis on helping Fordham students. 
Especially in the midst of the coronavirus outbreak, Parisi said that helping students find subletters after the suspension of on-campus housing became all the more important.
Prior to the outbreak, the College Sublets team was set to travel to California to reach out to investors and expand the brand.
"I was eager to experience that process while getting to travel across the country gaining an experience of a lifetime," said Parisi.
Despite the change in plans, Parisi discussed her positive experience interning for the company thus far. 
"Brian cares about his interns greatly as he checks in on our health and feelings regularly," said Parisi. "He is always receptive to our ideas and loves when everyone collaborates." 
Ma said he is looking to hire more interns and contractors in the future, both on college credit and payroll, in marketing, social media, design and mobile app development.
He said he is also optimistic about the future success of College Sublets. He has begun advertising for parents via Facebook, particularly considering the potential circumstance that study abroad programs be canceled, or at least limited, for the fall of 2020. While he expressed his sadness for students in the case that this does occur, he said he wants to provide assurance through his initiative. 
"This application was built to help multiple students in multiple situations," said Ma.
In the case that students must find housing in a quick and sufficient manner, Ma said he wants to affirm that College Sublets is an easy and efficient way to do so.
Although Ma initially began by solely advertising to Fordham students, the application is open to students at all universities, so long as they use their campus email address to sign in to the
application. He has recently begun to advertise to NYU and Columbia via Facebook and said he wishes to expand to universities across the country in the future.