Amazon's Peculiar Seattle Arena Name Could Be the Way of the Future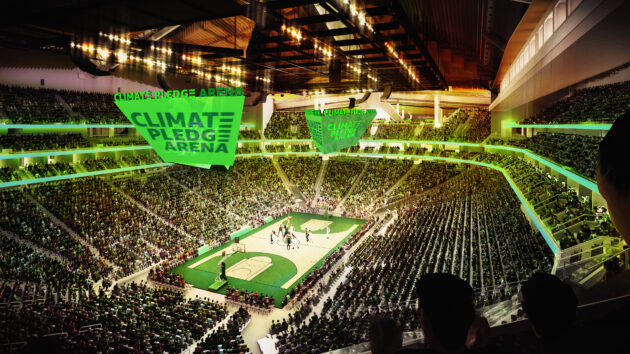 Nicholas Lehman, Contributing Writer
September 9, 2020
When most companies buy naming rights for a stadium or arena, their corporate objectives are usually to increase brand exposure or portray themselves as an industry leader in their business category. However, a mega-corporation such as Google, Amazon or Facebook has no need for any brand exposure. This is the reason why many were surprised to hear when Seattle-based Amazon bought the naming rights to the new downtown Seattle arena where the NHL's Seattle Kraken will begin playing in the 2021-2022 NHL season.
What was even more baffling was how the arena would not be named after Amazon at all, rather it would be named Climate Pledge Arena in homage to how the building would become the world's first carbon-neutral arena. While many were left wondering why the company would spend tens of millions of dollars not to put their company name on the arena, Amazon may be onto something that will be a reoccurring trend in the years to come.
As mentioned earlier, Amazon does not have a brand recognition problem, but they do have a public relations problem. Between their total dominance of the online market space, putting many historic brick-and-mortar stores such as Lord & Taylor and Sears out of business, and not paying a single cent in taxes over the past couple of years despite being the world's most successful company, one could say that Amazon may not have the best brand image.
Adding onto this image, Amazon has dozens of distribution centers, thousands of trucks and planes on the way to deliver packages, in the process cutting out the middle-man shipping companies such as UPS and FedEx. All these facilities and vehicles emit tons of carbon emissions daily, which has frustrated climate activists. Amazon is aware of this PR issue and has decided to face it head-on.
By acquiring the naming rights to a sports and entertainment arena that many Washington locals will visit and many NHL fans will watch on television, Amazon is sending the clear message that they are committed to fighting climate change despite the current perception of their brand. It changes the narrative from Amazon being a company focused on overtaking multiple industries and emitting tons of carbon emissions to a company focused on climate change and preserving the environment.
This message is consistent with its current advertising campaign on television showcasing how Amazon is striving to become carbon-neutral by 2040. While it may have caught the public off guard when it was announced, it successfully associated Amazon with having a "Climate Pledge."
With many other mega-corporations having major public relations and brand perceptions issues, the success of Climate Pledge Arena could influence a company like Apple to potentially purchase the San Jose Sharks arena naming rights to call it "End Hunger Place" or Facebook to purchase the Los Angeles Dodgers naming rights to call it "Family Memories Park." Amazon could be well ahead of the curve when it comes to the way companies will utilize naming rights partnerships in the future, just as it usually is.