We all know how stressful airport security can be, but did you know that there's a program that can help you breeze through it and save you some valuable time? Clear is a fantastic service that offers expedited airport security clearance to its members. In this guide, we'll provide you with all the essential details about Clear, including how it works, its benefits, and the various locations where you can use it. And if you decide that Clear isn't for you, we'll also explain how to simply cancel Clear membership. So let's get started!
What Is Clear?
Clear is a program that provides members with expedited access through airport security checkpoints. Members use a biometric ID, such as a fingerprint or iris scan, to verify their identity at a Clear kiosk. Once verified, members can proceed directly to the TSA security checkpoint, bypassing long lines and saving time.
How Does Clear Work?
To join Clear, you must first create an account online and then complete an in-person verification process at a Clear enrollment center. During this process, you will need to provide identification documents and biometric data. Once your account is set up, you can use the Clear kiosks at participating airports to verify your identity and bypass the standard TSA security line.
What Are the Benefits of Clear?
The main benefit of Clear is the time-saving it provides. By bypassing the standard TSA security line, members can save precious time, especially during peak travel times. Clear is also a great option for travelers who have mobility issues or who need special assistance at the airport. The Clear program provides several benefits to its members. Here are some of the key benefits of Clear and whether it's worth the cost:
Time-saving: The main benefit of Clear is that it can save you a significant amount of time when going through airport security. With Clear, you can bypass the standard TSA security line and move quickly through security using a dedicated Clear lane. This can be particularly valuable during busy travel times when airport security lines are long.
Convenience: With Clear, you don't need to carry your ID or boarding pass with you. Your biometric data, such as your fingerprint or iris scan, is all that's required to verify your identity at the airport. This can make the airport experience more convenient and streamlined.
Additional benefits: In addition to expedited security access, some Clear memberships also offer other benefits, such as free or discounted access to airport lounges or partner services. These additional benefits can make the cost of Clear more worthwhile for some travelers.
As for whether Clear is worth the cost, that depends on your travel habits and preferences. The cost of Clear varies depending on the length of your membership and whether you opt for additional benefits. Some travelers may find that the time-saving and convenience benefits of Clear are well worth the cost, especially if they travel frequently or value a streamlined airport experience. However, for infrequent travelers, the cost of Clear may not be justifiable. It's important to consider your own travel needs and habits when deciding whether Clear is worth the cost for you.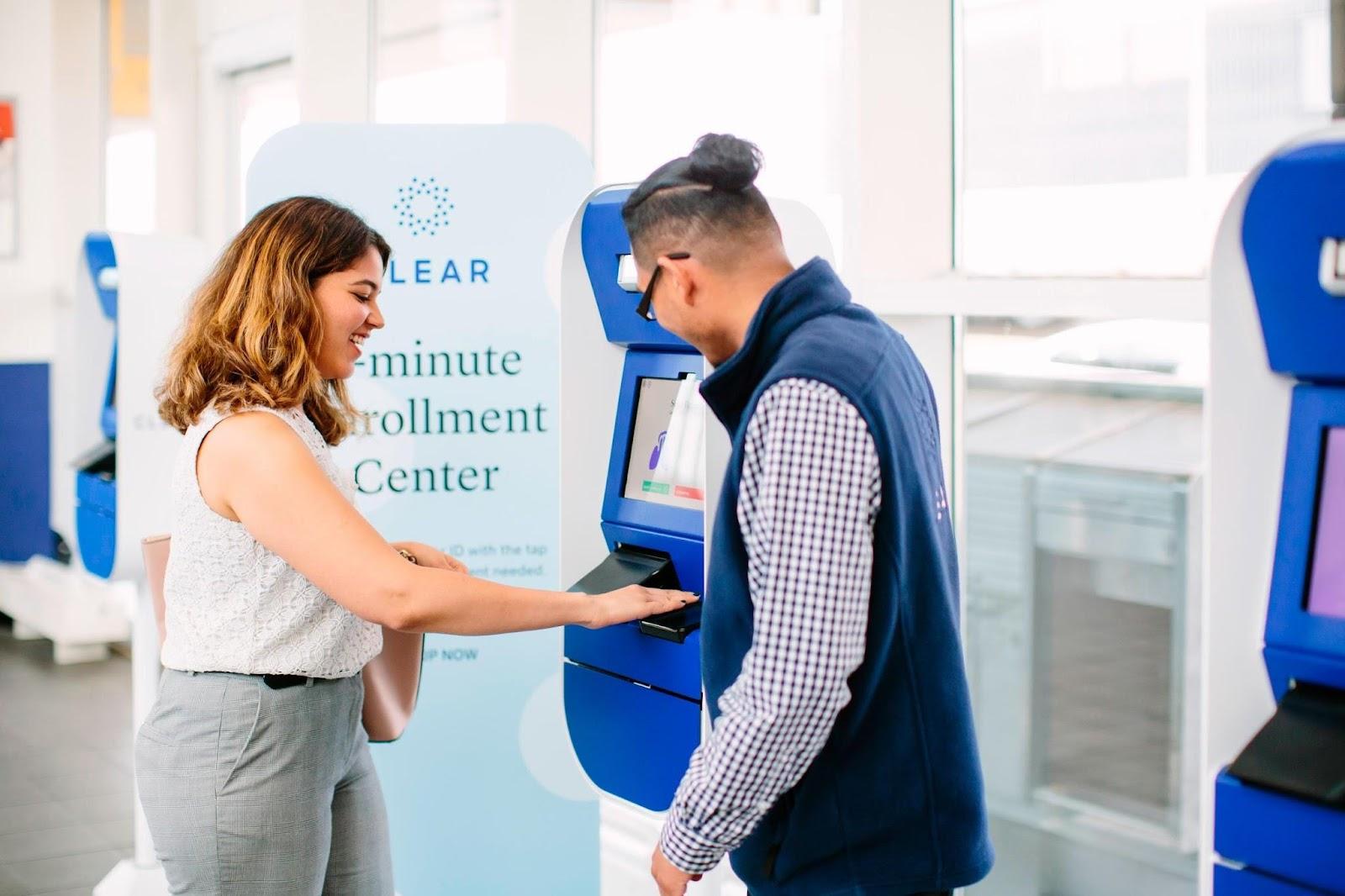 Where Can You Use Clear?
Clear is currently available in over 35 airports and sports stadiums across the United States. Here are some of the major airports and sports stadiums where Clear is currently available:
Airports:
Hartsfield-Jackson Atlanta International Airport (ATL)
Los Angeles International Airport (LAX)
Denver International Airport (DEN)
Dallas/Fort Worth International Airport (DFW)
San Francisco International Airport (SFO)
New York John F. Kennedy International Airport (JFK)
New York LaGuardia Airport (LGA)
Washington Dulles International Airport (IAD)
Miami International Airport (MIA)
Chicago O'Hare International Airport (ORD)
Sports stadiums:
Yankee Stadium (New York, NY)
Citi Field (New York, NY)
AT&T Park (San Francisco, CA)
Coors Field (Denver, CO)
Comerica Park (Detroit, MI)
Kauffman Stadium (Kansas City, MO)
It's important to note that Clear is constantly expanding its network, so it's always a good idea to check the Clear website for the most up-to-date list of participating locations.
Additionally, while Clear is primarily available in the United States, it may be offered in other countries in the future.
Canceling Clear Membership
If you decide that Clear is not for you, canceling your membership is easy. Simply log in to your account on the Clear website and follow the instructions to cancel. If you cancel within the first 30 days of membership, you will receive a full refund. After that, your cancelation will take effect at the end of your current billing cycle. Here's what you need to know:
Cancelation options: You can cancel your Clear membership online, by phone, or in person at a Clear enrollment center.
Refund policy: If you cancel your membership within 30 days of enrollment, you may be eligible for a full refund of your membership fee. If you cancel after the first 30 days, you will not receive a refund, but your membership will remain active until the end of your billing cycle.
Auto-renewal: If you don't cancel your membership, it will automatically renew at the end of your billing cycle. To avoid being charged for an additional year of membership, you must cancel your membership before your renewal date.
Membership transfer: Clear memberships are non-transferable, so you cannot transfer your membership to someone else.
To cancel your Clear membership, you can log in to your account on the Clear website or app, call Clear customer service at the phone number provided on the website, or visit a Clear enrollment center in person. It's always a good idea to check the cancelation policy on the Clear website or contact customer service if you have any questions about the cancelation process.
In Conclusion
Clear is an excellent option for travelers who want to save time and streamline their airport experience. With its biometric ID verification process and expedited access to airport security, Clear can help make your travels more enjoyable. And if you decide that Clear membership is not for you, canceling is a simple process, and you can even receive a full refund within the first 30 days.