Garden of Happiness Supports Community Through Hot Sauce Sales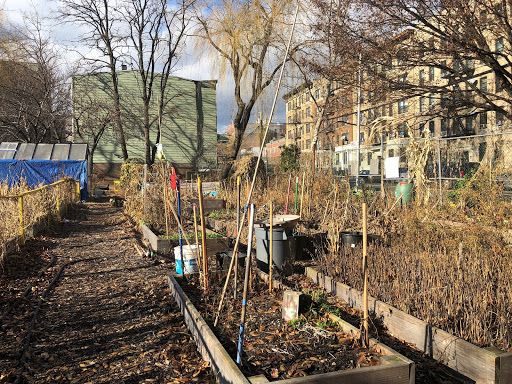 By Hannah Gonzalez
Since Bronx Hot Sauce was first released in 2014, the Garden of Happiness has been growing the serrano peppers that light up taste buds across the nation. However, the garden's focus remains on its local Bronx community, aided by the partnership with Small Axe Peppers.
Community Organizer and Food Justice Advocate Karen Washington founded the Garden of Happiness on three formerly city-owned plots in 1988. For 30 years, the garden has remained an invigorating fixture in the Tremont community, offering fresh produce, children's programs and food festivals to the local population.
"The garden's been a mainstay for over 30 years," said Washington. "Every year we close down the street for a block party, and gardeners and homeowners come together as we feed the community."
The past couple of years, these celebrations of food and community have included a "seafood throwdown," in which local chefs compete to create dishes using ingredients from local fisheries. Central to these festivities is the integration of local economies, as well as the community as a whole.
"The community garden is moving from volunteerism to economic development, which no one talks about in low-income communities," said Washington. "It's about having that conversation, so gardens start to look at income generating."
The garden's income comes from "La Familia Verde" farmers market sales, gardeners' membership fees and, most recently, the garden's partnership with Small Axe Peppers.
Daniel Fitzgerald, COO of Small Axe Peppers, said that the program helps small plot community gardens to support themselves and their local communities. Gardens that partner with the program are given serrano pepper starters at the beginning of the year, and the matured peppers are bought back and turned into hot sauce. By participating in this program, gardens can produce a cash crop that sustains their organization.
"It's about finding a way to empower these gardens to continue growing healthy, fresh produce," said Fitzgerald. "We monetize those efforts so that they can use their profit to help address the needs of their community."
The Garden of Happiness was one of the first gardens to be part of this program during the pilot year for Bronx Hot Sauce. However, in the beginning, the partnership did not work. According to Washington, this was largely due to the larger community's lack of involvement.
"If you just put up something and expect people from the community to come, they won't," said Washington. "You have to first be asking if this is something they want to do. It doesn't work unless it comes from the community."
It was only once the community participants understood what they had to gain from a partnership with Small Axe Peppers that the project became feasible. After reaching out to the community, Washington was able to amass the support necessary for the program.
"It's about sitting down and getting people invested," said Washington. "Rather than an extraction of knowledge and resources from low-income communities, the garden puts money back into the community. "
Aided by GrowNYC, Small Axe Peppers provided five gardens in the Bronx with serrano seedlings. The peppers that gardens sold back would then become Bronx Hot Sauce.
"[The Garden of Happiness] was one of the first gardens that grew with us and helped establish our credibility," said Fitzgerald.
That first year, Fitzgerald was amazed to see the gardens grow and sell 150 pounds of serrano peppers. Since then, that number has grown to 3900 pounds in the Bronx alone, with 48 more gardens across the country, from Queens to San Diego. The success of the Garden of Happiness, as well as Washington's ambassadorship, has helped expand the program to new gardens interested in better aiding their communities.
Small Axe Peppers buys back 100 percent of the peppers that the gardens are willing to sell. Through the income generated by the program, gardens like the New Roots refugee farm in Salt Lake City and the Rockaway Youth Task Force garden in the food desert of the Rockaways are able to address their communities' specific needs.
"Going forward, we're looking to continue to expand this economic model," said Fitzgerald.
At the Garden of Happiness, the profits from Bronx Hot Sauce have helped to finance garden tools, wheelbarrows, portable toilets, block parties and the Garden Sprouts program, an annual summer camp for kids. This program provides local children with the opportunity to learn more about health and science in a lively, hands-on environment.
"Children are what makes the garden," Washington said. "They have a plot that they work, so they have a chance to get their hands in the soil."
Small Axe Peppers and the sale of Bronx Hot Sauce provides the Garden of Happiness the financial support to serve its community better.
Last semester, Olivia Quartell, FCRH '21, worked with the Social Innovation Collaboratory and Good Mornings to bring Small Axe Peppers to campus. She spoke highly of Fitzgerald's presentation, and hoped more students would learn about and be inspired by the program.
"Daniel gave a great presentation about how the company got started, how they are sustainable, what things worked for them and what they would've done differently," said Quartell. "Overall it was a fantastic event. I do wish there were higher attendance numbers, as I don't think many students know what Bronx Hot Sauce is, and it would be a great company for people to get involved with."
After hearing Fitzgerald speak, Quartell ordered some Bronx Hot Sauce for herself. She has since fallen in love with the flavors the company offers.
"I like it because a lot of hot sauces sacrifice heat for flavor, but their blend is the perfect combination of both," said Quartell. "I actually just ordered a few more bottles as Christmas presents for my family!"
In season five of "Hot Ones," a popular Youtube show that highlights the biggest names in hot sauce, host Sean Evans spoke highly of Bronx Hot Sauce's flavor.
"On a pound for pound level, I'm calling it right now," said Evans. "Maybe the tastiest sauce we've ever had on this show."
Bronx Hot Sauce and the other sauces in the Small Axe Peppers lineup can be purchased online at the Small Axe Peppers website. For 15 percent off your purchase, enter the code "Fordham" at checkout.