Upcoming Road Trip Crucial Following Loss to VCU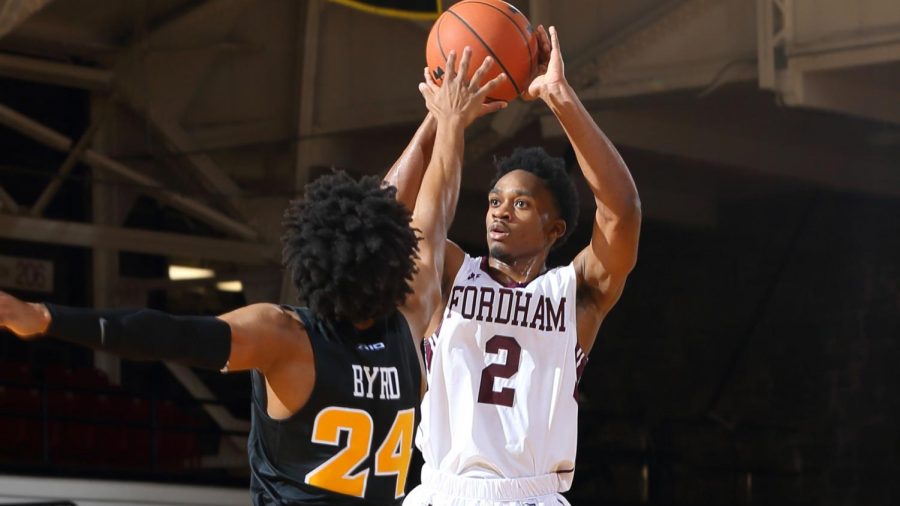 By Andrew Posadas
Fordham Men's Basketball head coach Jeff Neubauer placed the blame solely on himself after VCU handed the Rams their worst defeat of the season, 76-51. Neubauer acknowledged postgame he's never "prepared a team as poorly for full court pressure" in what manifested as a one-sided game Saturday evening to begin A-10 Conference play.
Despite a disappointing loss at home against LIU Brooklyn, the Rams' 9-4 record following non-conference play was tied for first in the A-10 with four other teams, including VCU. Even with matching records, it became apparent early on that Fordham still has work to do in order to compete with the best the A-10 has to offer.
VCU wasted little time introducing Fordham to its patented "havoc" defense, a relentless full court press designed to suffocate offenses for forty minutes. The Rams missed their first seven shots, going scoreless for nearly five minutes before junior Guard Antwon Portley's layup at the 15:10 mark. The offensive trio of Portley and freshman guards Nick Honor and Jalen Cobb were held in check, going a combined three of 14 in the first half.
Struggles on offense led to turnovers plaguing the Rams early and often. Fordham had five turnovers in the first seven minutes, a stark contrast considering it only turned the ball over five times in its previous game. VCU got out to an early 17-5 lead and never looked back.
The constant pressure from VCU's defense wore Fordham down on both sides of the court. Normally a solid defense, Fordham allowed the Rams from Richmond to shoot over 65 percent from the field. A 19-point lead at halftime for VCU only increased in the second half, ballooning to as large as 33 points.
On the other side, Fordham shot a season-low percentage from the field (32.7 percent) and was stymied from beyond the arc (6-21), looking very much like the squad picked to finish last in the A-10 preseason poll. Every player on the court for the Rams turned the ball over at least once, leading to an uncharacteristic total of 18 for the game. Now, a 2-game road trip starting Wednesday evening at Duquesne seems critical in where Fordham's season ultimately goes from here.
While there wasn't many positives to hang their hats on, Neubauer believes his team's response to this blowout loss will determine its success in the Atlantic 10 conference. Neubauer summed it up by saying, "Most teams in the country are going to lose a game this year. Some teams are going to fade away…some teams are really going to respond."
Keep in mind: this is still a young team continuing to grow together in hopes of building a competitive basketball program in the future. It has already matched its season win total from last year, when its ninth win did not come until February. Add to that the fact Fordham has won as many home games this season as it did last. Besides VCU, the top half of the A-10 is up for grabs with the Rams right in the mix to make some unexpected noise.
Mid-January usually isn't "make or break" time for national title contenders, but for a team looking to make a name for themselves, the next two games looks to reveal how much gumption Fordham truly has. The Rams continue A-10 conference play on the road Wednesday evening at 7 p.m. against Duquesne.