Women's Basketball Earns First Win Over Northeastern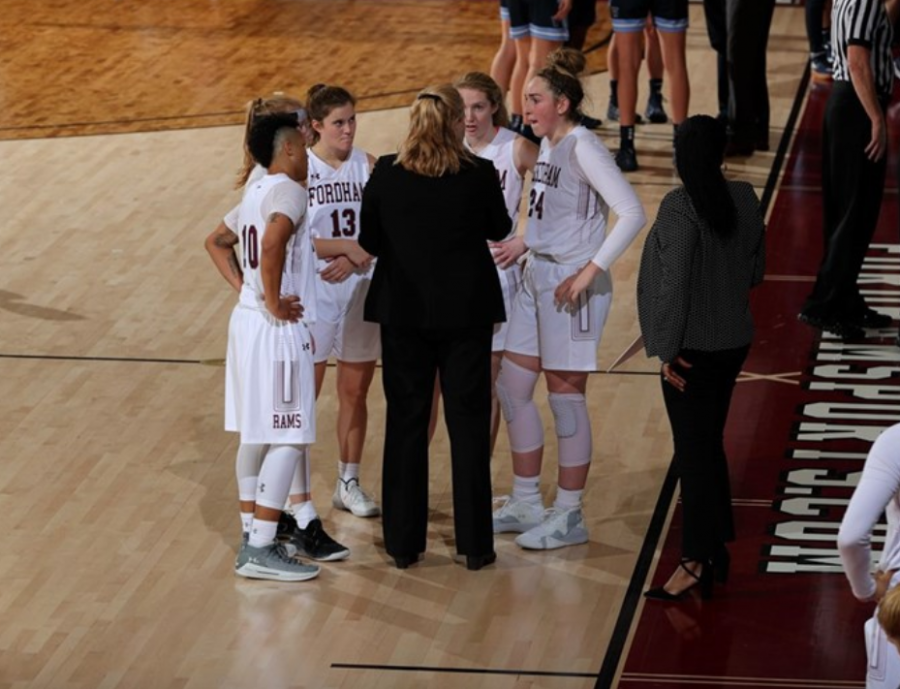 Jimmy Sullivan, Sports Editor
November 22, 2019
No one said the Fordham women's basketball team's schedule was easy. Matchups with teams like Notre Dame, Penn State and Villanova had the potential to give a young team trouble early in the season. Those teams all handed Fordham losses, as did Columbia in the second game of the season.
Entering Wednesday night at 0–4, the Rams needed to step things up. Against Northeastern, a team Fordham had never beaten before, Fordham reversed both trends.
The Rams pulled away late for a 74–58 victory to get their first win of the year. Redshirt junior Bre Cavanaugh led the way with 21 points, six rebounds and two assists, but the night was highlighted by several key contributions on offense from role players. Sophomore Meg Jonassen came through with 10 points and eight rebounds in 20 minutes off the bench, highlighted by a putback layup to put Fordham up seven points with four minutes left. Fellow sophomore Vilisi Tavui notched six points in her first appearance in a week. Both performances were necessary for the Rams, as junior Kendell Heremaia and sophomore Kaitlin Downey both struggled on the offensive end and got into some foul trouble.
"Hats off to Meg [Jonassen]," Fordham women's basketball coach Stephanie Gaitley said. "I thought Meg made a big putback for us, that was a big play for us in the fourth quarter. She gave us some great minutes."
Fordham's frontcourt players weren't the only ones contributing offensively. Junior guard Katie McLoughlin drilled two threes off the bench in 12 minutes, as she's carved out an important role for herself in Gaitley's rotation early on in the season. As for the starters, freshmen Anna DeWolfe and Sarah Karpell contributed in different ways. DeWolfe scored 15 points and made three shots from outside before fouling out with just over a minute left. Despite only scoring six points, Karpell made a massive impact defensively, holding the Huskies' top scorer, junior Stella Clark, to just seven points.
"I think the freshmen stepped up and made some big-time plays and big-time shots," Gaitley said, referring to her two first-year guards.
While there were positives for Fordham, there are still issues to be ironed out ahead of Sunday's matchup with Charlotte. Fordham turned it over 17 times on Wednesday, but the team got away with it by forcing 21 Northeastern giveaways, leading to 25 Fordham points. Heremaia and Downey struggled, the former with decision-making (six turnovers) and the latter with early foul trouble that kept her on the bench for most of the second quarter. Both are two of the team's three captains, along with Cavanaugh, but neither player got going on Wednesday.
Still, only one thing matters from this game. Fordham is in the win column, and at a critical time in its season: The Rams will not return to the Rose Hill Gym until Dec. 8, with trips to Charlotte and the Bahamas at Thanksgiving within that time. To call the fifth game of the year a must-win would have been incredibly disingenuous, but the tilt carried more importance than a typical early-season, out-of-conference matchup.
Gaitley realizes that while a win is a win, her team will need to play better to beat upcoming opponents Charlotte, Arkansas and Lehigh.
"In order to beat the teams we're gonna play, we've gotta have everybody playing on all cylinders," she said.