Fordham Suspends Face-to-Face Classes Following NY State of Emergency
As of Monday, March 9 there are no confirmed cases of the coronavirus at Fordham.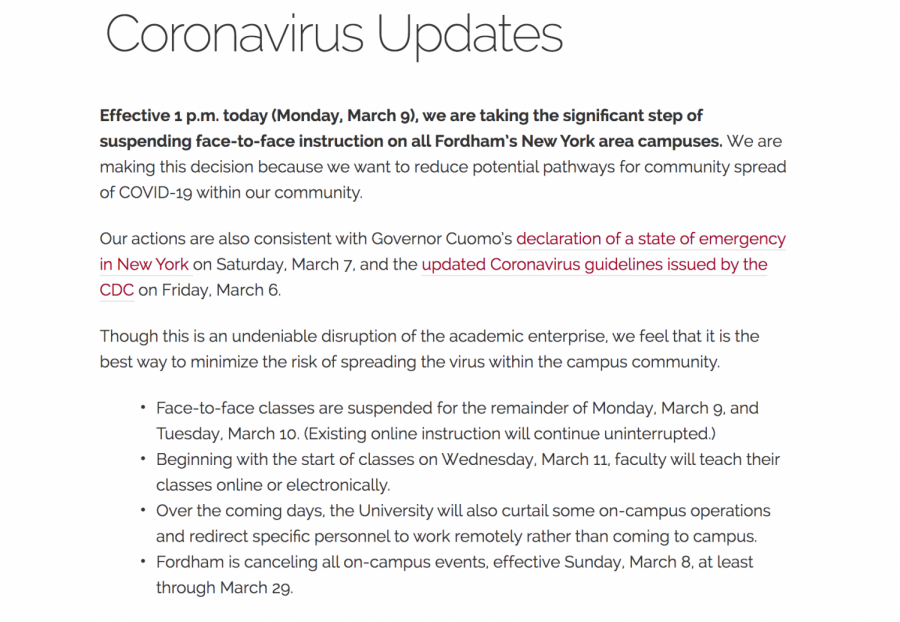 Sarah Huffman, News Editor
March 9, 2020
Classes on all Fordham University New York-area campuses have been suspended effective 1 p.m. Monday, March 9, through Tuesday, March 10, according to an email from Rev. Joseph M. McShane, S.J., president of the university. The cancellations come in light of reports on the novel coronavirus (COVID-19) in New York. As of this morning there are no confirmed cases of the virus at Fordham. 
Classes will resume online Wednesday, March 11, through Friday, March 13. Classes will be in an online format after spring break on Monday, March 23. The university will evaluate whether conditions allow students to resume face-to-face classes on March 30.
McShane said the university will also curtail some on-campus operations and redirect specific personnel to work remotely rather than coming to campus. Students are advised to take all of their belongings as they leave campus for spring break, including all course materials.
"Though this is an undeniable disruption of the academic enterprise, we feel that it is the best way to minimize the risk of spreading the virus within the campus community," he said.
Effective immediately, university-sponsored student travel, both international and domestic, will be canceled or postponed. McShane said there are limited exceptions for intercollegiate athletics. All nonessential university-sponsored international travel for faculty, administrators and staff will be suspended.
The university canceled all on-campus events indefinitely, effective Sunday, March 8, following reports of COVID-19. As of March 9, all university events are canceled through March 29.
Overnight guest passes are no longer being issued between now and March 30 according to an updated guest policy sent in an email by residence hall directors. The only non-overnight guests allowed to enter residence halls need to have Fordham ID with them.
Maureen Keown, MSN, director of University Health Services, said the university is taking this action after Gov. Andrew Cuomo declared a state of emergency in New York and the Centers for Disease Control and Prevention (CDC) updated coronavirus guidelines.
As a result, most on-campus athletic events are canceled, including those run by outside organizations. After Sunday, March 8, all Masses held in the University Church will be livestreamed, with only the celebrants of the Mass physically present.
According to New York State's website, the state of emergency is to help New York quickly and effectively contain the spread of the virus. Cuomo also confirmed 32 additional cases of coronavirus, bringing the statewide total to 76. The state of emergency expedites access to cleaning supplies, hand sanitizer and other essential resources. It also allows qualified professionals other than doctors and nurses to conduct testing, and offers alternative locations for quarantine situations, according to the declaration.
This weekend, the administration learned of an undergraduate commuter student who exhibited symptoms consistent with the coronavirus. According to the university's email, the student was tested for the virus and is self-isolating at home. It said if the student's test results are positive, the university will inform the campus community.
"If the student is, in fact, positive for the virus, following established protocols, the New York City Department of Health will work in concert with University Health Services to reach everyone with whom the student has been in contact, and University staff will also follow-up on this initial contact with each person," read the email.
The university sent an email from Public Safety on Friday, March 6, informing the Fordham community that two faculty members and three students may have been exposed to the coronavirus off campus. The students and faculty members are all self-isolating.
The email also said a parent of a prospective student fell ill on the second floor of Duane Library. The parent tested negative for COVID-19, and the second floor has since been professionally cleaned and disinfected. Fordham custodial personnel continue to deep clean common areas and restrooms on an accelerated schedule, according to the email.
University administration has advised students, faculty and staff to avoid nonessential international travel. According to the university's website, residence halls will remain open to accommodate students whose homes are in regions or whose travel plans are affected by the virus.
McShane said his primary concern is the health and safety of every member of the university community, and he will take whatever measures necessary to limit exposure to the virus. He said the university will continue to send alerts and post them to the website as new information becomes available.
"We are receiving questions regarding canceling classes, taking classes online, and how or whether the University will operate if the outbreak becomes more widespread," said McShane in the email. "Some of those questions are currently unanswerable, but I can tell you that senior administrators across the University are involved in intensive planning to address every contingency we can." 
Previously, Fordham University recalled all students studying abroad in northern Italy after reports of coronavirus and will allow them to return to campus after spring break if they remain symptom-free.
Fordham has also been communicating with abroad programs in London and Granada regarding the spread of coronavirus.
The university suggested checking Fordham's website for updates about school functioning and the coronavirus.
Any student experiencing symptoms of the coronavirus, which may be similar to the flu or common cold, should call University Health Services immediately at (718) 817-4160.
This article will be updated as new information comes to light.