Fordham University Allows Pass/Fail Option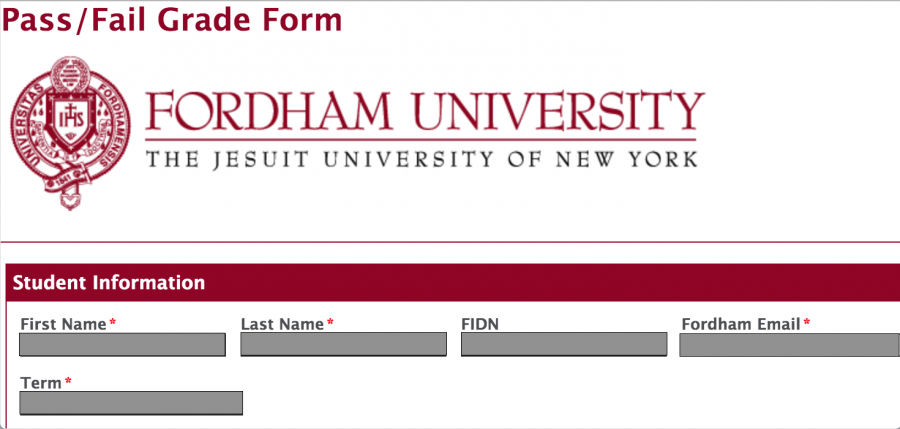 Marisa Valentino, Contributing Writer
April 15, 2020
Fordham University implemented a pass/fail option for all classes after suspending face-to-face instruction and transferring classes online. 
"The decision was influenced by the unprecedented situation we are in, including students learning from a variety of time zones, students managing new learning environments and health concerns," said Laura Auricchio, dean of Fordham College at Lincoln Center. "The discussion began after the decision to bring all courses on-line for the remainder of the semester was made." 
Auricchio said the deans of the schools consulted with faculty and administrators, including Provost Dennis Jacobs, Ph.D., and Vice Provost Jonathan Crystal. 
Core, major, minor and honors thesis courses can all be taken pass/fail for the spring 2020 semester.
Auricchio said students can elect to receive a grade of pass or fail in any undergraduate course. A grade of D or higher is considered passing. 
"The option is available for all undergraduate courses at all of Fordham's colleges — Fordham College at Rose Hill, Fordham College at Lincoln Center, the Gabelli School of Business, and the School of Professional and Continuing Studies," said Auricchio. "However, pre-health courses must be taken for letter grades in order to count as courses required for application and matriculation to a health professional school."
She said students have until Friday, April 24, 2020 at 11:59 p.m. EST to decide if they want a course to be considered pass/fail. 
The United Student Government (USG) released a letter on April 14 asking all faculty to inform their students about their course grades before the April 24 deadline. 
"Many students are experiencing both stress and anxiety, not only from the state of our world but also from the impending pass/fail declaration deadline," read the letter from USG. "Based on feedback we found that many students are not aware of their current standing in a course and will be unable to make an informed decision about their declaration of pass/fail." 
The letter asked professors to prioritize giving feedback to their students so they can make informed decisions when designating a class pass/fail. The letter said this request was a response to a large number of concerns they received from students. 
USG also provided two pages worth of anonymous statements from students who were concerned about the pass/fail system. Many of the statements explained that they were unsure about their grades and were anxious about making informed decisions regarding their classes prior to April 24. 
Many students are in favor of the pass/fail option. Some even encouraged Fordham to enact this option. The administration received several emails from students requesting the option prior to the decision, and there was at least one change.org petition with over 900 signatures at the time the decision was made, said Auricchio.
Grace Hackett, FCRH '23, created a change.org petition urging the university to make classes pass/fail.  
"I heard other schools made their classes Pass/Fail and I thought it was a really good idea," said Hackett. "I thought a lot of students could benefit from this idea, not just myself. So I asked around and heard that the way to start a petition is through the change website, and I just started one." 
Hackett also spoke on the benefits of the pass/fail option. She said there is less pressure for those students struggling mentally/physically with what is going on. 
"This is such a weird time and for teachers to still hold the students accountable to the same standards they held us at school with no modifications is ridiculous," Hackett said. 
She said she does not think the option they gave students has any issues. 
"I love how they give you a month to decide if you want to participate in the pass/fail option. This saves students a lot of unnecessary stress," said Hackett. 
Kate Posner, FCRH '21, said the great thing about college is that it puts all students on a somewhat equal playing field. 
"We live in the same areas, eat the same dining hall food, etc. When students are spread out in their different communities, there are different burdens that they have to contend with on a daily basis in addition to class," said Posner. "Grade leniency allows for more flexibility in handling a dramatic shift in students' priorities." 
According to Auricchio, students' response to the pass/fail option has generally been positive.
She said the faculty members at Fordham also seem to be on board with the pass/fail option. 
"The faculty members we have spoken with want to be as supportive as possible to the students and recognize that this option could relieve some anxiety for some students," said Auricchio.
David Hawkins, a journalism professor at Fordham, said he thinks it's great that the university is offering this option to students. 
"This is just unusual, and it was a quick switch …  it's also a time of great stress for I think both professors and for students, as we're all sort of working this stuff out and trying to navigate not only our classes and course work but our lives … reducing the amount of GPA stress I think is a good move and a smart thing to do," said Hawkins. "I think it will help some students." 
The administration has some recommendations for students who are weighing the pros and cons of the pass/fail option. Auricchio said students should give it a little time before they make the decision. They should see how each class is progressing before they decide, she said. 
The student FAQ about the pass/fail option recommends students talk to their academic advisor, financial advisor, instructor and dean to weigh the pros and cons of the decision. Auricchio said she also encourages students to check the Coronavirus Students FAQ page for more detailed information.