"Hope Wanted: New York City Under Quarantine" Exhibit Curators Discuss Pandemic Life in New York City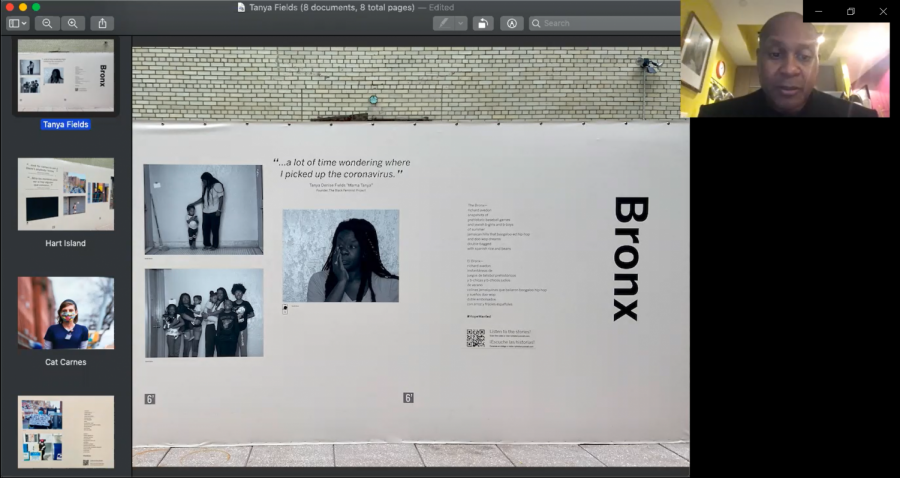 Sarah Huffman, News Editor
November 4, 2020
Tanya Fields, aka "Mama Tanya," is a woman who lives in the South Bronx with her six children. Fields runs the Black Feminist Project and earlier this year, she organized a program called Corona Relief Food Box to deliver food to those in need. 
Her and five of her children had COVID-19 this spring when New York City was the epicenter of the pandemic. 
Fields is one of the subjects of the New York Historical Society's (NYHS) exhibit Hope Wanted: New York City Under Quarantine. 
The exhibit features over 50 photographs and 14 audio interviews done with the exhibit's variety of subjects, according to the NYHS website. 
Exhibit curators Kevin Powell and Kay Hickman engaged in a discussion moderated by Gregory Donovan, associate professor in the communications and media studies department, on Thursday, Oct. 29 about their exhibit, the subjects they photographed and their working process with the New York Historical Society. 
"Dean Williams and Garcia were the masterminds behind the event and so they contacted me roughly a month ago or so about the possibility of moderating the discussion and they organized, more or less the whole thing," said Donovan. "I give them full credit and I think it was part of this broader idea of trying to think through new creative ways to engage students with things happening in the city that they otherwise would be able to do in normal time."
The discussion started with Donovan introducing Powell, Hickman and the exhibit in general. Hickman said her and Powell went through the five boroughs on April 8 and 9, 2020 and documented New York and how New Yorkers experienced life under quarantine. 
Powell said he initiated the project because he wanted to do something to help the city. He reached out to Hickman for help as a photographer. 
"We saw articles about the pandemic in New York City they mostly focused on Manhattan and Brooklyn." said Powell. "We didn't get a sense of the full city so we thought about the Bronx, what about Queens, what about Staten Island and so you know that was part of it." 
The pair borrowed an SUV and socially distanced in there while driving throughout the city to take photos and talk to people they knew. Powell said they wanted the project to be diverse because New York City is diverse. Even the homeless community is represented in the exhibit, he said. 
Hickman ended up taking 1800 photographs. 
Powell said they had multiple ideas with what to do with the photos, but ultimately decided to work with the NYHS. Hickman said they worked with the NYHS to make sure they had a space where New Yorkers could come together and heal and reflect on what happened. 
"Can we have a space that feels like a healing space," Powell said. 
The pair documented people clapping at 7 p.m. everyday for essential workers and likened the COVID-19 pandemic's effects on New York City to the period of time during and after 9/11.
"I did really appreciate hearing both Kay and Kevin and like from their own voices hearing the motivations that led to them, what motivated them to go out into the city particularly at that time in March," said Donovan. "To go on and document these kinds of narratives and how overwhelmingly ended up centering essential workers. That was great. That was sort of a focus that came out and the conversation wasn't necessarily so explicit in the exhibit itself."
The rest of the discussion went through some of the subjects in the exhibit, including a grave digger on Hart Island and a nurse from Oklahoma who traveled to New York to help in the hospitals. They even photographed Mark Naisson Ph.D., a professor in the African and African American studies department at Fordham, as well. 
"I really loved hearing more about Mama Tanya and hearing more about the woman from, I believe it was Oklahoma that volunteered to come as a registered nurse and to hear more about the homeless person in Queens that they were interviewing and the person who is digging graves on Hart Island," said Donovan. "All of those kinds of individual stories being able to get a bit more context about both how they met them and just kind of what happened to them since."
Donovan added to the conversation the focus that the exhibit has on essential workers and what it means to be an essential worker. Powell said we, as a society, cannot continue to have a reckless disregard for people no matter what their backgrounds are. 
Donovan said he encourages people to attend the exhibit in person. He said he found it extremely safe and enjoyable when he went. 
"When actually going there, it did take on a new meaning being able to see it in a public context, seeing it outside, seeing it on walls," he said. "All of those things were really kind of nice and kind of gave it a deeper meaning than I was getting just hearing about it."
Hickman and Powell also thanked the NYHS for their cooperation and their team for helping to put the exhibit together in two months. 
"My hope is that people realize how historic this moment is," said Powell. "I just think it's something we'll never forget and it's important what the museum has done with us and these folks who are in it to capture this."