Softball Drops Three of Four in I-75 Challenge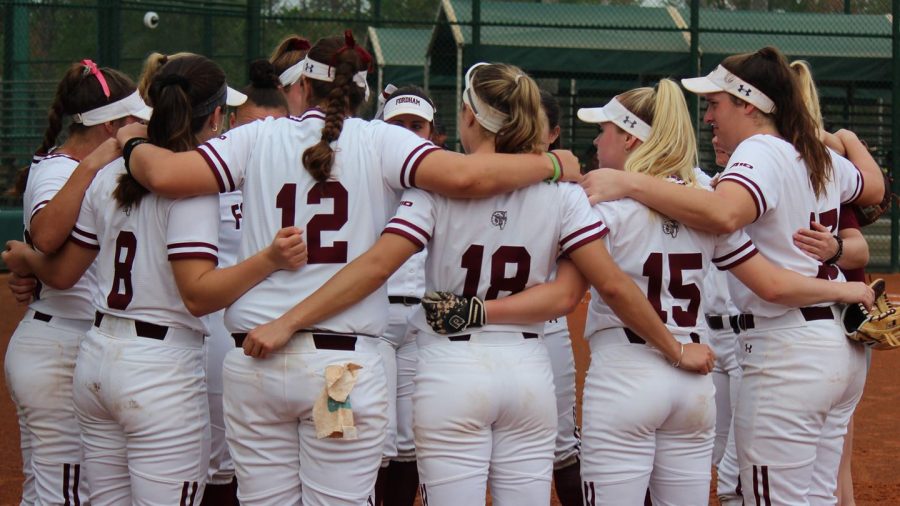 By Emmanuel Berbari
Playing at a high-level out-of-conference competition has come at a cost for Fordham Softball. Head coach Melissa Inouye's squad split a doubleheader at Georgia State on Saturday to snap a six-game losing streak that stretched into the weekend's I-75 Challenge.
It took a seventh-inning rally from both sides to notch a win, as the Rams and Panthers split 5-4 decisions.
In game one, the Rams were held scoreless for six innings by Georgia State redshirt-freshman Savannah Freeman and trailed 4-0 through six.
Plain and simple, the seventh inning proved to be a different story.
Sophomore infielder Gianna Ranieri worked a leadoff walk to end Freeman's day. Georgia State redshirt-sophomore pitcher Emily Soles took over and allowed a single to senior infielder Molly Roark, who was replaced by freshman pinch-runner Gigi Speer. Ranieri and Speer moved to second and third, respectively, on an ensuing groundout to put senior outfielder Maria Trivelpiece in a position to put Fordham on the board.
She delivered, knocking a two-run single to left to pull the Rams within two.
Later in the inning, Soles was replaced in the circle by senior Mandy Chance to face senior Chelsea Skrepenak with two on. Promptly, Skrepenak drilled a three-run homer to give the Rams the lead.
Fordham's most dramatic rally of the season was capped off by a timely homer, providing junior pitcher Madie Aughinbaugh with an opportunity to earn her third victory of the season. With a ho-hum seventh inning, the Rams snapped their skid in improbable fashion. Aughinbaugh's seven strikeouts in an otherwise gritty three-hit, four-run, five-walk effort, were a season-high.
Fordham looked to turn its losing streak into a winning streak in game two, but the tables turned upside down.
The Rams jumped to an early lead but squandered it to a seventh-inning Panthers rally. Sophomore third baseman Rachel Hubertus cracked her fourth home run of the season; Trivelpiece collected her second and third run-scoring singles of the day to pad the Ram lead to three in the sixth inning.
Freshman Makenzie McGrath nearly surrendered the lead in the sixth but was able to escape any further trouble. Aughinbaugh came back in looking to finish a perfect day in the seventh and finish her second save of the year, but the Panthers spoiled what would have been a feel-good sweep. Senior Remington Hasty and redshirt-sophomore Caitlin Ray, who had both homered earlier in the game, contributed back-to-back one-out RBI singles to propel the Panthers to a walk-off win.
Sophomore pitcher Anne Marie Prentiss scattered three hits over four innings of one-run ball, striking out three but did not factor into the decision. Aughinbaugh's blown save followed her brilliant effort in game one, as her record dropped to 3-8 on the season.
Fordham was set to wrap up the I-75 challenge at Kennesaw State on Sunday at noon, but the getaway clash was cancelled due to weather. This Wednesday's scheduled 3:00 p.m. home opener against Lafayette has also been altered, as the matchup will be postponed to a later date.
As a result, the Rams have a stretch of 12 days off before returning to action Friday, March 15 against Cleveland State and Connecticut in Macon, Georgia for the Mercer Bears Classic. Fordham will not open up at home until April 6 for a doubleheader against Dayton in the thick of Atlantic 10 play.