Softball Takes Two of Three At George Mason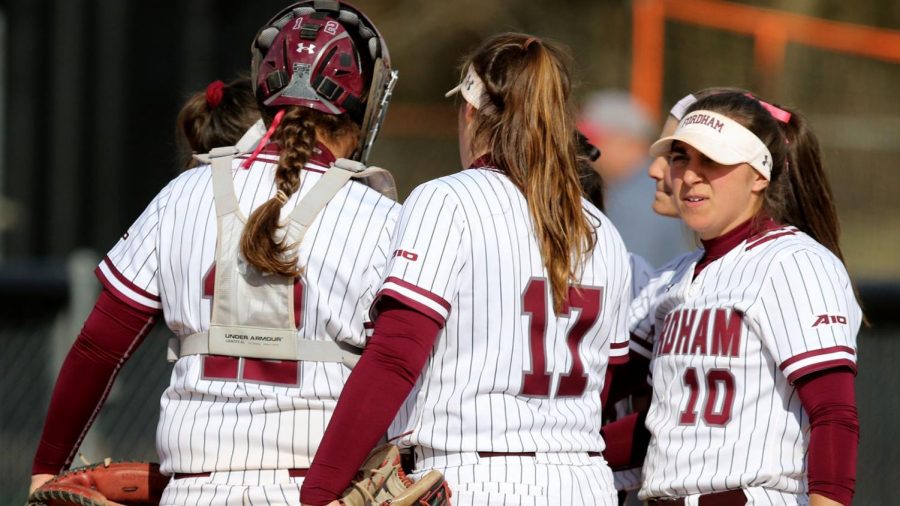 By Emmanuel Berbari
Fordham Softball showcased its resiliency in Sunday's series finale at George Mason, rallying for four runs in the seventh to tie the game, but the Patriots walked off in the bottom half to salvage one win on the weekend.
Two wins on Saturday paved way for a potential first three-game sweep of the season, but the Rams were unable to seal the deal, falling to 11-19 overall and 4-2 in Atlantic 10 action.
With the win, the Patriots improved to 12-17 and 2-4, respectively.
Fordham's offense never truly broke through during the weekend set.
Dominant pitching efforts by junior Madie Aughinbaugh and freshman Makenzie McGrath paced the Rams in both legs of the doubleheader.
On Sunday, they were limited to one run over the first six innings, but the seventh proved to be a different story.
Consistently stringing together hits had been a weekend-long issue prior to the frame.
Three key seniors started the magic, as Deanna Burbridge singled, Chelsea Skrepenak reached on an error and Jordy Storm drove in Burbridge with a single to left. Once Aughinbaugh reached on a second error of the inning, the bases were filled with Rams.
Sophomore Rachel Hubertus delivered in a tremendous way, breaking the spell and driving in Skrepenak with an infield single. However, senior Maria Trivelpiece provided the biggest lift, singling through the left side to drive in a run and set up senior Molly Roark, who knew exactly what she needed to do, lifting a fly ball deep enough to tie the game at five.
That momentum was short-lived, as the first three Mason batters of the home half reached base, culminating in redshirt-sophomore Adriana Erickson's walk-off double to right-center off McGrath.
The freshman's third loss wrapped up an overall productive weekend for Fordham that ended short of satisfaction.
Hubertus, Roark and Trivelpiece all tallied two hits apiece, but the offense has not reached dynamic form as of yet.
Aughinbaugh continues to be dynamite in every sense of the word, and can be credited for much of Fordham's conference success thus far. Over the weekend, she went 6-for-12 at the dish and registered a 1.91 ERA over 11 innings in the circle. Storm and Trivelpiece produced 5-for-11 weekends, while Roark led the way with five runs battled in.
Fordham will play home games for the first time in 2019 this weekend, welcoming Dayton on Saturday and Sunday for noon first pitches. The Flyers are off to a red-hot 5-1 start, making the series a litmus test for this version of a decade-long dynasty.