Volleyball Falls to 7–10 As Rams Return Home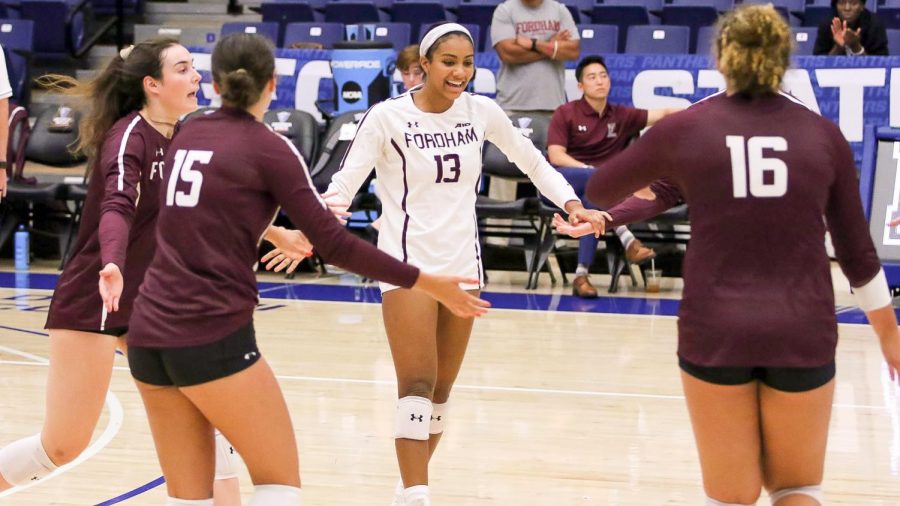 Gigi Speer, Contributing Writer
October 16, 2019
Heading into the weekend with a record of 7–8, Fordham Volleyball fell to two Atlantic 10 foes as it plays its last leg of road matches before its home opener this Friday. Fordham lost to Davidson 3–1 and Virginia Commonwealth 3–0 to fall to a record of 7–10 on the season.
The team managed to finish within five in each of its four sets against Davidson, being bested in the final 25–21. Taking the second set 25–22, the Rams proved to be an evenly-matched team with the Wildcats.
"After a long stretch of away games, we're finally ready to play at home," said junior outside hitter McKenna Lahr. "We're excited to get back in the gym and prove that we are a team that deserves to be recognized as a top contender in our conference."
Lahr posted a characteristically strong day offensively, finishing with 14 kills, an ace and nine digs. Freshman libero Mallory Lipski added two aces, and senior libero Morgan Williams also chipped in two, along with her four assists and 22 digs. Redshirt junior right hitter Olivia Fairchild had nine kills, and freshman middle blocker Aria De La Rosa had eight with four blocks.
Facing off against the 2018-2019 A-10 champion VCU, the Rams fell in three sets, despite keeping it close in the second. Fairchild led the way for the Rams, finishing again with nine kills and tacking on an ace and a block. Senior middle blocker Elise Benjamin followed with eight kills and two blocks, while Lahr finished with five kills and six digs. Freshman setter Megan Brzozowski set up 19 assists, and Williams and Tanaka added on three and two, respectively.
After this weekend, the Rams are ready to get back to the Bronx and play at home on their new court as they will face off against Dayton and Saint Louis for the second time this season. The home matches start at the Rose Hill Gym on Friday at 6 p.m. and Saturday at 2 p.m. They can also be streamed on ESPN+.