Volleyball Remains Outside A-10 Playoffs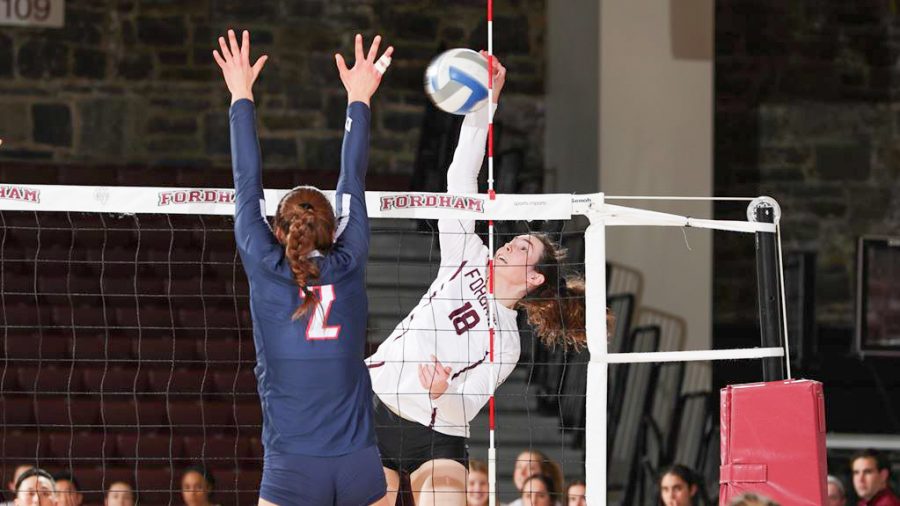 Gigi Speer, Contributing Writer
November 6, 2019
After a win against Duquesne on Friday and a loss to La Salle on Sunday, the Fordham Women's Volleyball team remains eighth in Atlantic 10 play, two spots shy of the tournament to be held later this month. 
On Friday, the squad took the win 25–21, 18–25, 25–17, 25–18 against a tough opponent. With confidence and composure, they finished with their second-lowest number of errors in the season, and showed a glimpse of their preseason offensive prowess, hitting at a .244 clip for the first time since mid-September. 
Everyone stepped up and competed well throughout the match, as sophomore outside hitter Joey Landeros finished the contest with a season-high 11 kills to add to junior outside hitter McKenna Lahr's 17 and junior right-side hitter Olivia Fairchild's 12. 
Senior libero Morgan Williams continued to be a defensive weapon for Fordham, setting a new single-season record with 505 digs, to edge out the previous high-water mark, set by Stephanie Frost in 2007. Williams also won Defensive Player of the Week last week, and is a top-10 player in the country, with 6.08 average digs a set, putting her at top-five in the nation. 
On Sunday against a stronger opponent, the Rams came out hot, taking the first set 25–19. 
However, La Salle answered back with a 6–0 run at the end of the second set to hold the Rams at 16 and propel the Explorers into the third. 
The two teams continued to flip-flop into the fifth, as Fordham won the third set 25–21, La Salle the fourth 25–12, and La Salle went on another 6–0 run at the beginning of the fifth to give them the advantage and eventually the win 15–7.
Although the Rams couldn't round out the weekend on a three-game win-streak, the win against Duquesne and the near-win against La Salle show promise and wins in their final four games of the year could push them to the six seed and a shot at the A10 title. 
In a pivotal matchup, Fordham will take on conference-leading VCU this Friday, Nov. 8 at 7 p.m. in the Rose Hill Gym.