Men's Basketball Wins Season Opener at Home Against St. Francis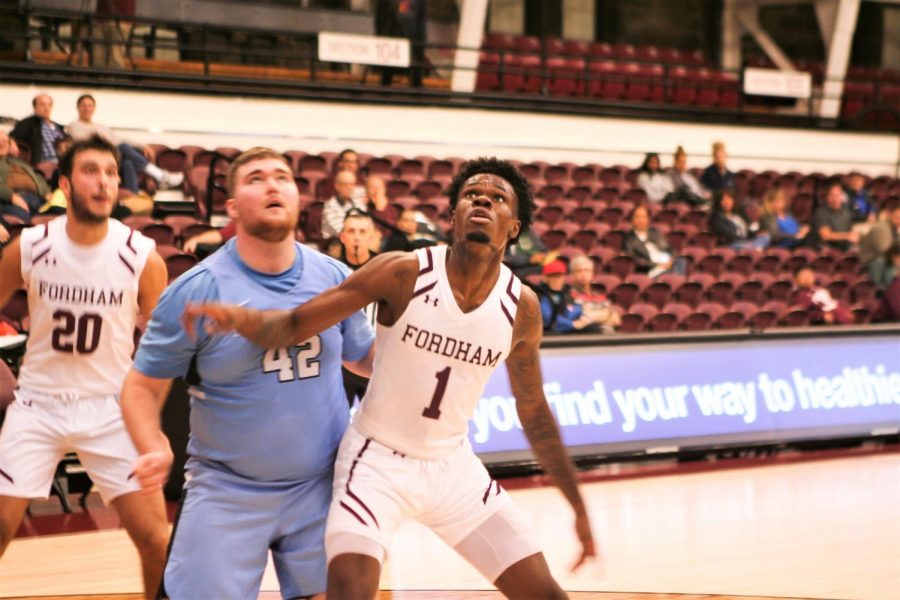 Andrew Posadas, Assistant Sports Editor
November 6, 2019
Head Coach Jeff Neubauer said before Tuesday evening's home-opener against St. Francis College of Brooklyn that the Terriers were a "dangerous team" and overlooking them would only result in an early upset loss. St. Francis ended up giving the Rams all they could handle at the newly-renovated Rose Hill Gym, but it was not enough to keep Fordham from overcoming a 14-point deficit and beating the Terriers, 68–59.
This was the 36th meeting all-time between Fordham and St. Francis, with the Rams coming into the contest holding a 24–12 series edge. The rivalry dates all the back to the 1905–06 season with the Rams enjoying a 76–68 win at Rose Hill in Dec. of 2017.
Fordham came into Tuesday's game without two key players, sophomore guard Jalen Cobb and sophomore center Onyi Eyisi, both serving a one-game suspension for undisclosed reasons. Fortunately, the Fordham defense was up to the task of compensating for the loss of perhaps its two best defensive players. The Rams forced 14 turnovers in the first half and shot over 50% from the floor. One might assume that the great defensive prowess on Fordham's part would correlate to success on the offensive end.
However, Fordham struggled from beyond the arc as well as from the free-throw line, leaving the door open for St. Francis to stick around. Despite foul trouble to the Terriers two best players, the road team hung in with Fordham by shooting well from the floor. What many fans thought would be a potential blowout turned out to be an evenly, contested game. At halftime, both teams went into its respective locker rooms tied up at 30–30.
In the second half, St. Francis threw a haymaker in Fordham's direction behind multiple three-point shots, taking control of the game and earning a double-digit lead. At one point, the Terriers were up 14 points with a little under 14 minutes left in regulation. However, unlike last season, this year's men's basketball team did not fold under the pressure.
Behind redshirt Junior Chuba Ohams Jr's double-double of 19 points and 13 rebounds, the Rams were able to go on a quick 8–0 run to cut into St. Francis lead. A key second-half adjustment by Neubauer was giving junior forward Ivan Raut and senior guard Ertan Gazi more minutes down the stretch. Raut added 15 points, including two massive three-pointers in the final three minutes to put the game away for good. As for Gazi, he thrived in the sixth man role, chipping in 11 points and three rebounds. 
Fordham starts off this season on the right track, and with a relatively light non-conference schedule, an auspicious start is very much realistic for Neubauer's squad. 
Fordham Men's Basketball has nearly a week off before its next game, as it will look to improve to 2–0 when the team hosts Fairleigh Dickinson University on Nov. 13. The game will take place at Rose Hill Gym and can be seen exclusively on ESPN+.