Beyond the Scoreboard: Old Town Sport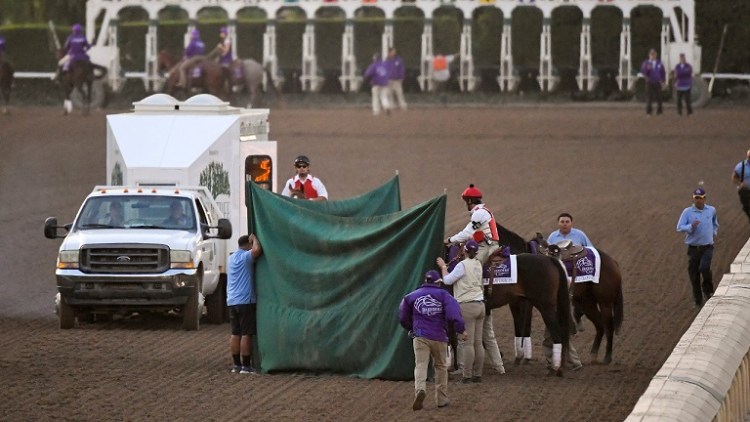 Andrew Posadas, Assistant Sports Editor
November 13, 2019
It is safe to say that sports fans, whether causal or lifelong, find themselves momentarily gravitating toward horseracing during its most popular time of the season when owners, trainers and jockeys look to pursue the elusive Triple Crown of Thoroughbred Racing that ensues from May to June. The Triple Crown consists of three races: the Kentucky Derby, the Preakness Stakes and the Belmont Stakes. The winning times for those three races were 2:03.93, 1:54.34 and 2:28.30, respectively.
For those six minutes or so, we are captivated by the prospect that one thoroughbred could potentially do what only 13 horses have achieved since Sir Barton won the first triple crown in 1919. Yet, after the triple crown portion of the racing season ends, I have found myself asking the same question in the last few years: is horseracing worth preserving considering more thoroughbreds have died than have won the biggest achievement in the sport?
Earlier this month, Santa Anita racetrack, located in Southern California, saw another horse unfortunately suffer a catastrophic injury and ultimately euthanized because of it. Since last December, 37 racehorses have been euthanized at Santa Anita. Yet somehow, the track continues to be one of the busiest in the world. What is even more alarming is the fact that this year's number of deaths pales in comparison to previous years at Santa Anita.
There were 44 deaths at Santa Anita last year and 64 in 2017. Not to mention, the track saw 71 deaths back in 2011. According to data reported by the Courier Journal, Santa Anita's rate of 2.04 horse deaths per 1,000 starts last year was not the highest in the country. That distinction goes to perhaps the most famous racetrack in the world: Churchill Downs, which hosts the Kentucky Derby. At Churchill Downs, 2.7 horses die per 1,000 starts.
Santa Anita and Breeders' Cup officials have implemented new protocols to prevent deaths in competition, including having a team of five medical experts review medical records of thoroughbreds before a Saturday race. However, no matter what new regulations become instituted, horses that race competitively will always face the risk of injury at any track in the country.
On Sunday, two more racing horses were euthanized after sustaining injuries at Del Mar Racetrack, also in California, and a third horse was taken to a hospital for possible surgery. Officials at Del Mar were still adamant that they had one of the safest tracks in the United States, but CBS San Diego reported that four other horses died there over the summer while training.
What benefit does the sport of race horsing truly have to the sports world? There is no other sport that sees the amount of deaths that this one does. Imagine if 21 National Football League players or boxers died in a span of three months as racehorses did at Santa Anita. There would be a national outcry to eliminate either sport if that were the case. But, because they are "animals," the sympathy is not enough for race officials to seriously consider shutting down the sport.
Many may argue that as long as the sport continues generating money and popularity, the deaths will ultimately be labeled as inconsequential in the grand scheme of things.
However, Santa Anita gate attendant Joseph Giordano admitted the track is not as full as it used to be. He recalls seeing as many as 60,000 people at the track on Saturday's at its peak. Now, the attendance is down to about 10,000, although he attributes that to people who prefer betting online.
I hardly believe those people are betting on horse races online. The truth is that gambling has moved past horse racing. If it is not one of the Triple Crown races, there really is no interest in betting on horse racing on a given weekend. Most people prefer engaging in fantasy football or basketball. Frankly, it seems the older demographic are the people who want to keep the sport alive due to the nostalgia provided by the Triple Crown.
For now, races will continue happening at tracks throughout the year. Owners and trainers will continue facing the risk of losing their thoroughbreds at any given race. However, it will not bother them in the long run, because their stables are filled with horses ready to step into the gate, whether the horse wants to or not. In the words of music artists Lil Nas X and Billy Ray Cyrus, those in charge of breeding these horses are going to ride them 'til they cannot anymore.