Beyond the Scoreboard: Ice Cracks on NHL Coach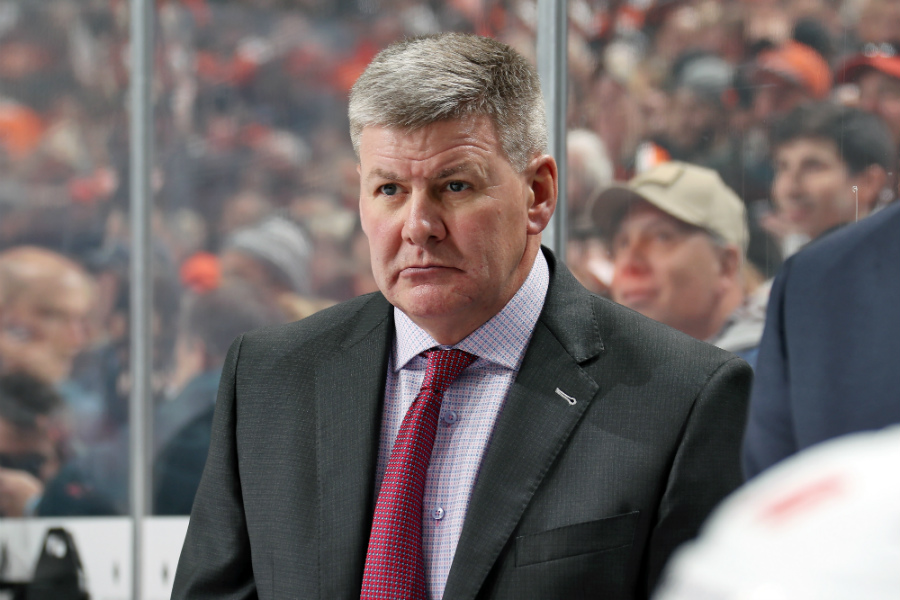 Andrew Posadas, Assistant Sports Editor
December 4, 2019
Editor's Note: This article contains language that could be offensive or disturbing to some readers.
Former Calgary Flames head coach Bill Peters sent a letter of resignation this past Friday when reports confirmed Peters aimed racial slurs to Nigerian-born player Akim Aliu nearly a decade ago in the minor leagues. Also, reports of Peters kicking and punching his players behind the bench during his tenure with Carolina Hurricanes from 2014–18 were also validated, ultimately sealing his fate and perhaps closing the door on his head coaching career for good.
It used to be that the ideal head coaching candidate that professional sports teams wanted was someone like Bill Peters. A coach that fit the "old-school" mold, ruling with an iron fist and holding all their players accountable, from the star player to the last player on the bench. These coaches use fear to instill motivation and greatness into the entire team, but it seems now more than ever, teams are going away from this style of coaching in favor of a more player-friendly approach.
And Peters' situation only reinforces that notion. Peters had not been behind the bench for the Flames since Aliu first brought up the accusations of racial slurs last Monday on Twitter. According to Aliu, Peters used the N-word several times toward him. The reason? Aliu says it was "because he didn't like my choice of music."
The confrontations occurred during the 2009–10 season when both Aliu and Peters were with the Chicago Blackhawks top minor league affiliate in Rockford, Illi. Aliu, who was 20 years old at the time, told Toronto Sports Network of one such encounter where Peters reacted towards rap music that Aliu was listening to. As Aliu recalled, "He walked in before a morning pre-game skate and said 'Hey Akim, I'm sick of you playing that n—– s—.'"
Eventually, two of Aliu's former teammates in Rockford, Simon Pepin and Peter MacArthur, corroborated the story's validity to TSN.
Peters released a written statement two days after Aliu's allegations were brought to the surface of national attention. In his statement to Flames general manager Brad Treliving, Peters expressed his apologies, essentially admitting he did indeed use offensive language towards Aliu a decade ago. He also went on to say in his statement that the racial slurs he used at that time were "made in a moment of frustration and does not reflect my personal values."
Peters claimed in his apology statement that he "immediately returned to the dressing room and apologized to the team," after being challenged by players for his offensive language. However, Aliu would take to social media to call out Peters' attempt at an apology and described it as, "misleading, insincere, and concerning."
Unfortunately, the accusations do not stop there. Peters was never reprimanded or questioned by the Blackhawks organization, and his coaching career continued when he took over as head coach of the Carolina Hurricanes in 2014. During his tenure with that team, former Hurricanes forward Michael Jordan alleged that Peters kicked him and punched another player in the head during one game. This week, current Hurricanes head coach Rod Brind'Amour, who was an assistant during Peter's tenure, corroborated both of those claims, saying the situation with Jordan "for sure happened."
How Peters managed to stay around as a coach in the NHL for another decade following the initial incident with Aliu is completely baffling when taking into account the due-diligence that executives are supposed to cover when looking to hire a coach to lead their respective franchises. I am not surprised by the lack of action taken by Aliu and the Blackhawks minor-league affiliate team. NHL teams, as well as in other professional sports leagues, do not concern themselves much with what goes on in the minor-league levels if it has no correlation or relevance to the primary teams of the franchise.
What is inexcusable, though, is the inconsistencies that lie between former Hurricanes GM Ron Francis and former majority owner Peter Karmanos. Francis made his first public statements about the physical abuse allegations last week, saying he took "immediate action to address this matter and briefed ownership."
Karmanos went on to tell the Seattle Times in an interview that he was never informed about the incidents, and would have fired Peters swiftly had he been told during that time. But the blame does not fall just on the Hurricanes. Treliving, along with the rest of the Flames Franchise, hired Peters in 2018 without any prior knowledge of any allegations surrounding him. You would think that a professional sports organization is competent enough to do their research when hiring a prospective head coach. How could the Flames not have uncovered this sooner?
It feels apparent that the Flames were more vested in what Peters could do for them in the win column than what he brings to the culture and identity of a franchise under his watch. For now, Peters is out of the coaching business in the NHL. Still, there are more questions than answers on how this man was able to continue implementing his coaching principles for over a decade, when it was made quite clear he was not even deserving of coaching professionals on the minor-league level.