Beyond the Scoreboard: Old G.O.A.T Looking for Greener Pasture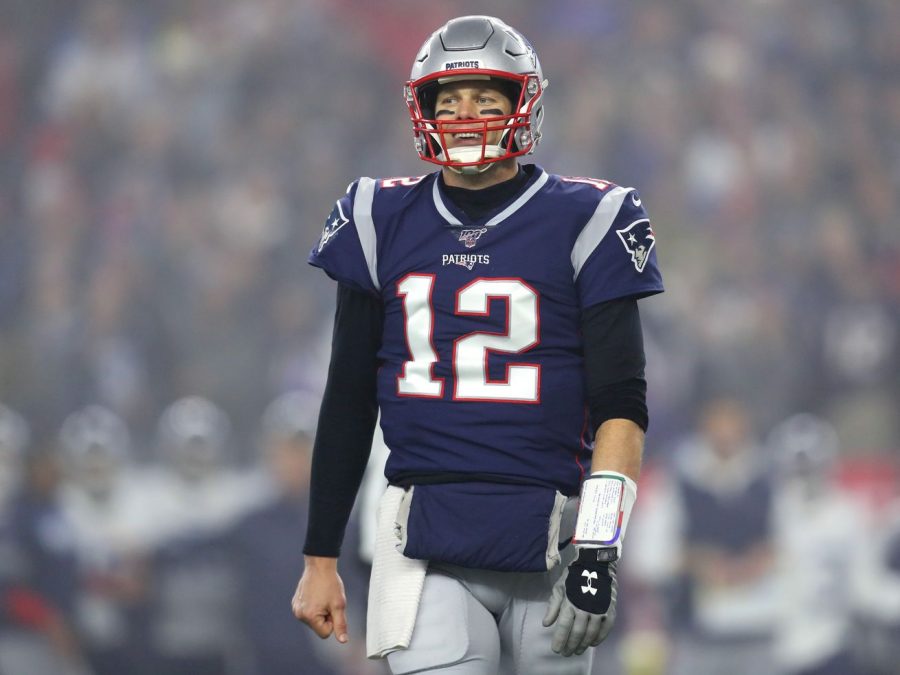 Andrew Posadas, Managing Editor
March 25, 2020
For two decades, Tom Brady has firmly cemented himself as the greatest National Football League (NFL) quarterback of all time with six Super Bowl championships and three Most Valuable Player awards under his belt. But that was with head coach Bill Belichick and the New England Patriots. Now, Brady is a member of the Tampa Bay Buccaneers and one question looms heavily: what does he have left in the tank?
The sports world has been forced to take a collective time-out from playing games amid growing concerns due to the current coronavirus pandemic. However, certain aspects of sports are still operating with some normalcy such as free agency in the NFL.
Undoubtedly, the most intriguing storyline heading into this NFL offseason surrounded the Patriots head coach-quarterback duo of Bill Belichick and Tom Brady. It became quite clear, after initial reports from ESPN's Jeff Darlington, that Brady's time in New England was coming to an end. Although neither has come out to publicly confirm this, many believe Brady and Belichick's relationship deteriorated to the point where the only logical option was ultimately separating.
Whatever the actual case may be, Brady decided to part ways with New England and put his name in the proverbial hat as an unrestricted free agent. While there were multiple teams coming into the offseason actively seeking a starting quarterback, I was skeptical on what the market would be for a 42-year old who threw for just 24 touchdowns this past season and showed signs that father time was finally catching up to him.
Speculation on where Brady would land included teams like the Los Angeles Chargers and Indianapolis Colts. Shockingly, it was the Tampa Bay Buccaneers who won the Brady sweepstakes, signing him to a two-year, 50 million dollar deal which is fully guaranteed.
The thought of seeing Brady in a Buccaneers jersey next season seems like something out of The Twilight Zone. Nevertheless, Tampa Bay is now his home for the next two years and a team desperately looking to build a contender.
This is a Buccaneers franchise that has not been to the playoffs since 2007, the NFL's second-longest active playoff drought. The last time it won a playoff game was in 2002, when former head coach Jon Gruden led the Bucs to an eventual Super Bowl victory over the Oakland Raiders.
But the Bucs team Brady will join this upcoming season has promising upside under the helm of top-tier head coach Bruce Arians. Tampa Bay's offense already includes two All-Pro wide receivers in Mike Evans and Chris Godwin, who combined for 2,490 receiving yards with 17 touchdowns. As for its defense, it allowed an NFL-low 73.8 rush yards per game last season and boasts the league's sack leader in All-Pro defensive end Shaquil Barrett.
If Tampa Bay can address concerns on the offensive line to keep Brady upright and a running game to compliment its dynamic passing attack, there is no reason to believe the Bucs won't be a factor in the NFC South division. In a league dominated by offense, all it takes is a great quarterback to transform a team from lowly pretender to postseason contender.
Recent history would tell you that a hall of fame quarterback can have a great second chapter of their career after leaving their original, long-time team. After 13 years in Indianapolis, Peyton Manning was essentially shown the door by the Colts who were looking to rebuild into a younger team. Many wondered what exactly Manning had left to offer, especially after neck surgery put his playing career in serious jeopardy.
Manning signed with the Denver Broncos, much like the current Buccaneers team, that consisted of an up-and-coming defense alongside dynamic weapons on offense. Manning and the Broncos made the playoffs in each of his four seasons there, making two Super Bowl appearances and beating the Carolina Panther in Super Bowl 50. More importantly, Manning was able to end his career on his own terms, turning what could have been a dismal finish to a Hall of Fame career into an ending you may only find in a book or at the movie theater.
As for what the worst case scenario could be? My mind instantly wanders to another G.O.A.T. (Greatest of All Time) in Michael Jordan, who after winning his sixth NBA title, retired for three years before returning to play for the Washington Wizards. Jordan was clearly not the same player anymore, but he was still productive in his two seasons in the nation's capital. Unfortunately, even with his 20 points and six rebounds per game, Washington missed the playoffs in both of his years there.
At one point in his introductory news conference conducted over the telephone on Tuesday, Brady said, "no one cares what you've done in the past; they don't care what you did last year, five years ago or 10 years ago."
Brady's comment is absolutely correct. No one cares about what Brady has done in New England. Football fans are more interested in finding out if he can be successful without Belichick in the next two years, and if he can actually play until the age of 45 as he has stated many times his intention to do so. Considering how motivated he sounds about this next chapter of his career, it is indeed safe to say that this G.O.A.T. has found his greener pasture.