Men's Basketball Improves to 3-0 After Locking Down Marist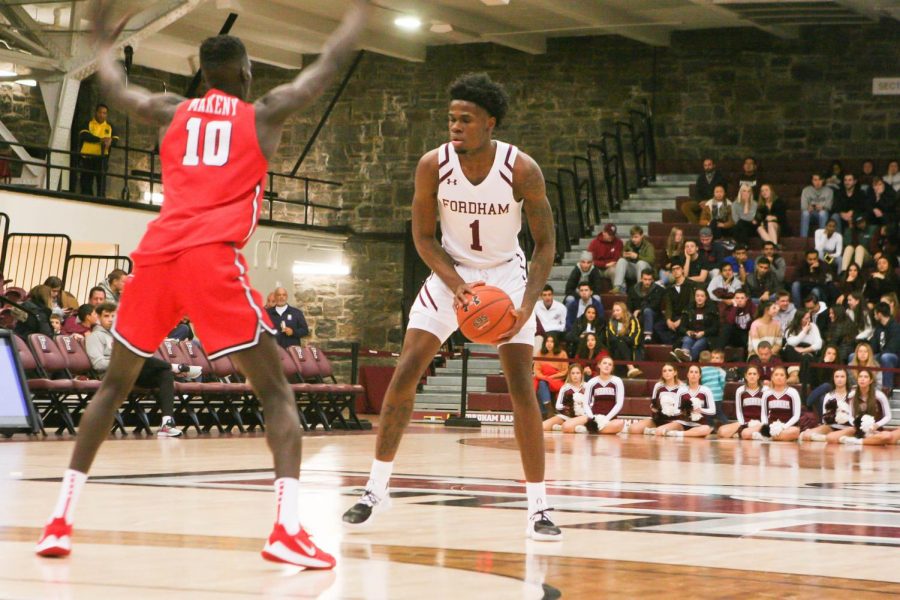 Andrew Posadas, Assistant Sports Editor
November 20, 2019
Head coach Jeff Neubauer admitted that he doesn't usually "break a season down into segments" when talking post-game after Friday's 58–41 win over Marist College. But considering that the team's first three games this season have been at home and against similar opponents, Neubauer wanted his team to focus on playing stout defense. Through three games, the Rams have been suffocating on that end of the court.
After defeating Fairleigh Dickinson University (FDU) with some late-game heroics by senior guard Antwon Portley last Wednesday, the Rams had three days to regroup before welcoming the Marist Red Foxes on homecoming weekend. However, Fordham's slow start to begin the game kept the contest much closer than it should have been.
Neither team shot particularly well from the field, with the Rams and Red Foxes combining for just 24 points through 10 minutes of regulation. The game was tied at 17 all with over six minutes remaining when Jalen Cobb's steal-and-fastbreak layup gave Fordham the lead and all of the momentum.
From there, the Rams outscored the Red Foxes 12–3 over those final six minutes. Marist guard Michael Cubbage, the team's leading scorer, scored the final basket of the half as the Rams took a 29–20 lead into the locker room. Cubbage came into Saturday evening's matchup averaging 16 points per game. However, after locking down FDU's Jahlil Jenkins, the Rams held Cubbage to just two points on one of nine shooting from the field.
In the second half, an early basket by redshirt junior Chuba Ohams gave the Rams an 11-point lead, and the home team never relinquished that double-digit lead. Fordham would lead by as many as 21, despite shooting under 40% from the field and making just three shots from beyond the arc.
Instead, its defense contested Marist shots constantly, limiting the Red Foxes to shooting a woeful 27% throughout the night. Marist only had 10 turnovers through its first two games this season, but the Rams defense proved to be a level up in competition as the Red Foxes uncharacteristically committed 12 turnovers.
Ohams led all scorers with 13 points, while finishing one rebound shy of a double-double.
As for fellow frontcourt mate and sophomore forward Onyi Eyisi, he was able to earn his first career double-double by amassing 15 rebounds and scoring 10 points. Sophomore guard Jalen Cobb powered Fordham's defense with four steals and two blocks, setting the tone for a stellar defensive performance, which limited Marist to only 41 points on the night.
With the win, the Rams improved to 3–0 this season, but coach Neubauer believes there is still room for improvement with his squad. "This is a growing process and every game is going to be a little different, but I'm happy with the team's performance heading into the Jam," said Neubauer.
The Jam Neubauer is referring to is the 2019 Paradise Jam, which begins this weekend in St. Thomas on the Virgin Islands. Fordham's first opponent will be the University of Nevada, an NCAA Tournament team from last season, with the Rams and Wolfpack meeting for the first time ever on the hardwood. That game will be on Friday, Nov. 22, with tipoff scheduled for 3:15 p.m. and figures to be Fordham's most competitive matchup in its relatively easy non-conference portion of its schedule this season.