Coming to Terms with the New Normal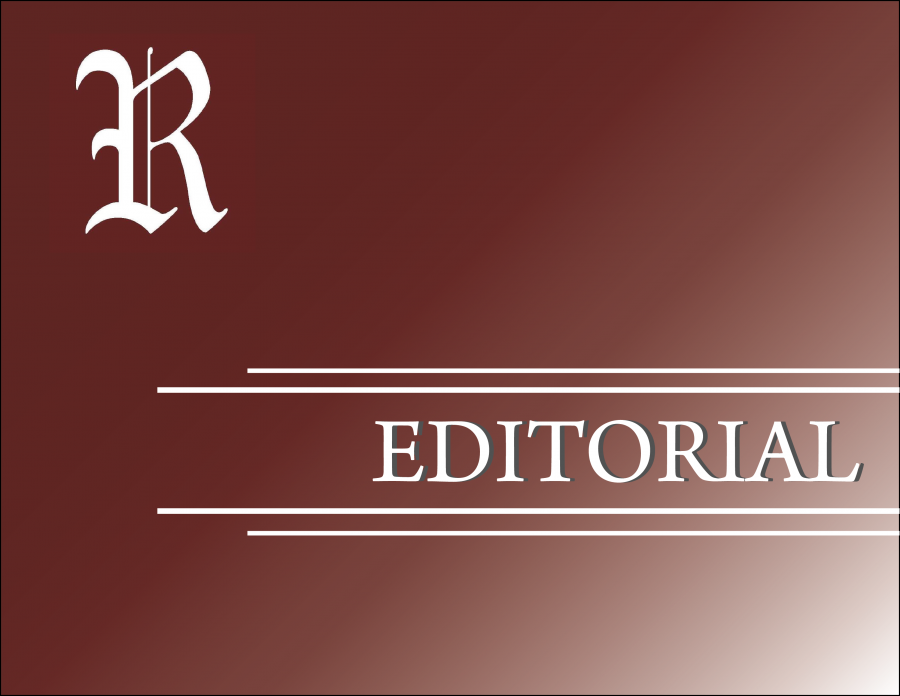 As we approach the halfway mark of the fall semester, it is becoming more and more apparent that the new normal we have developed amid the COVID-19 pandemic is here to stay. We have grown accustomed to life on a much quieter campus with masks and social distancing, with to-go containers from the cafeteria and a guarded door at Starbucks. 
Many of us had the impression earlier this year that the fall would be "back to normal," but we must come to terms with the fact that that sense of normal may not return any time soon.   
The specific losses have been different for us all. First-year students are adjusting to campus life when campus is far from anything anyone, even the most involved senior, is accustomed to. Sophomores and juniors face an uncertain future, unsure of whether many of the typical opportunities for their classes, such as studying abroad, will even be an option for them. Graduating seniors face the prospect of having many beloved traditions, from Senior Week to the graduation ceremony itself, altered significantly or canceled entirely. 
There is no right way to feel at a time like this. No one truly knows what lies ahead, and with the traditional college experience confined to a short four years, many of the experiences we are losing out on will not come around again. 
This is not to say that the changes we are experiencing in nearly all aspects of our lives are not necessary. While they feel like losses in themselves, these precautions are crucial to mitigating the devastating losses that have occurred on a global scale. More than 1 million people have lost their lives due to COVID-19. We may feel a sense of sadness at all the changes that these precautions have brought to our lives, but they are undoubtedly worth it. 
While this new normal can feel overwhelmingly scary at times, there is comfort in the ways in which we are all coping. Everyone is sharing a sense of grief that is distinct yet somehow, simultaneously, universal. 
In February of this year, we published our first editorial about COVID-19, but it had a far different tone than any of those that have followed. With just 11 cases in the United States at the time, we reflected on the dark humor that Generation Z was relying on to cope with anxiety about the quickly spreading virus. Today, with upwards of 7 million total confirmed cases of COVID-19 in the U.S., we still rely on that same humor to get by. 
Throughout quarantine, social media was filled with posts poking fun at the strange reality we are all living in. From the awkwardness of Zoom breakout rooms to having to answer video calls from our childhood bedrooms with cringeworthy decor, social media provided an outlet to see the humor amid a scary reality. Even now, as college students wonder if they made the right choice on whether or not to return to campus, social media continues to give us a sense of relief. We can share in-jokes about the confusing emails concerning our schools' COVID-19 preparation plans, difficulties paying attention to online lectures and the struggles of making new friends while maintaining safety protocols. 
Embracing the chaos of it all with open arms can be comforting, in a strange way. With all of the confusion, grief and disappointment comes a distinct sense of comfort. It is a comfort found in the knowing glances of strangers above their masks, a heightened sense of gratitude when we have the chance to meet up with someone for coffee or unexpectedly run into a friend on campus. 
The only thing we can do at this point is continue to navigate this uncharted territory. The outlook of a time-slotted senior toast, virtual GO! trips and asynchronous classwork may feel overwhelming and frustrating. But the Fordham community will continue to innovate and make the most of the situation while remaining safe. These may not be the memories that we had anticipated making when most of us first arrived on campus, but they are what we will have to look back on. They will be what we joke about at class reunions; the stories that we tell to our children, who will listen with shocked expressions. 
At The Fordham Ram, the new reality of publishing exclusively online has been hard come for our staff to come to terms with. We miss the atmosphere of McGinley B-52, but our camaraderie works through computer screens as well. It is not what we had hoped for, but there is an incredible feeling of strength that emerges from the ability to make the most of what is handed to us. We are incredibly grateful to have a dedicated staff of editors and writers who continue to be passionate and excited about our content. Volume 102 has been far from anything any of us could have predicted, but we are immensely proud of what we have accomplished.