Men's Basketball Takes 110th Battle of the Bronx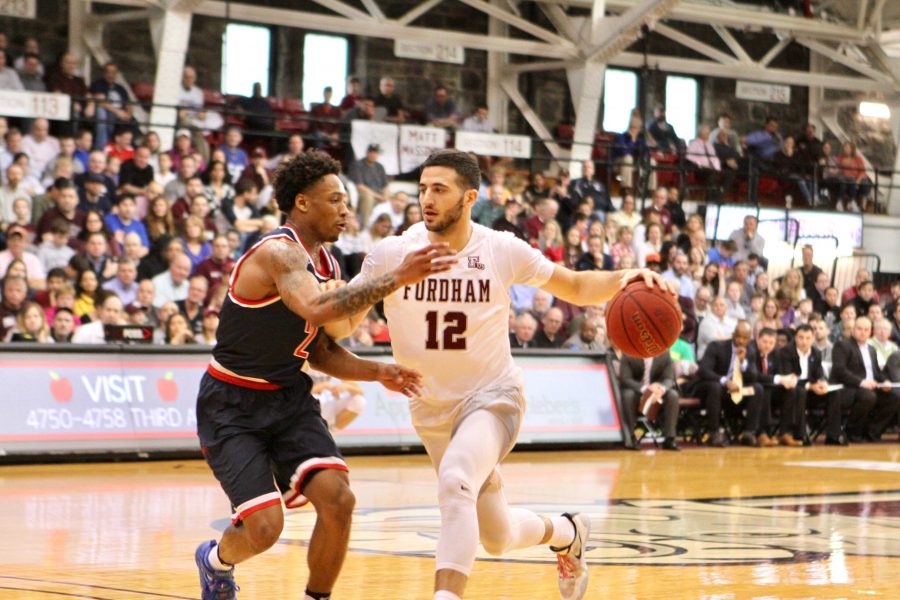 By Alvin Halimwidjaya
Before Thanksgiving, the Fordham men's basketball team traveled to Montego Bay to participate in the Jamaica Classic, losing to Florida State 67-43 in the teams' first meeting, and then giving up a lead to Tulane and losing 63-55. Coming back from the break, they were looking to bounce back, and that's exactly what they did. On Sunday, Nov. 26, the Rams defeated the Manhattan Jaspers 70-57 in the annual Battle of the Bronx.
"This was a really gutty performance by our team; I'm really proud of our group," head coach Jeff Neubauer said. "We went down to Jamaica and played two really good teams and we competed, but we knew that we could play a whole lot better. We had a lot of guys step up today, a lot of guys that just played really well. Will [Tavares] played really well, Perris [Hicks] off the bench, but the guy we're most proud of, Jesse Bunting, really gutted out [22] minutes and really brought a lot to the table."
Fordham improved to 2-3 on the season on the strength of their defense, as the Rams came up with a program-record 17 steals, beating the previous record of 16 against Maine on Dec. 19, 2015.
"It tells a lot about our guys," Neubauer said. "We do guard the ball, we work on something that's very important to our program, we put in a lot of effort. We're gonna get better and better, but our defense through all five games we've played really has ben consistent."
Fordham was plagued with injuries both before and during the game, with sophomore and junior forwards Chuba Ohams and Prokop Slanina, respectively, out before the game started. Later in the contest, junior forward Jesse Bunting went down with an injury and had to leave in the second half, marring a season-high performance with 12 points and six rebounds in 22 minutes on 6-8 shooting.
"He [Bunting] will be fine actually," Neubauer said. "He's had a lot of injuries through his three-year career, but I think he just had some spasms here tonight."
However, Fordham pushed through and got solid performances from several players. Freshman forward Ivan Raut and senior guard Perris Hicks chipped in with 14 and 15 points, respectively, with the latter going 3-3 from behind the arc and 6-6 from the field. Junior forward Joseph Chartouny also fought through a tough shooting night to contribute with seven assists and five steals.
"If you look at what Joe Chartouny's career has been, it's really been a balance of giving his team whatever it needs," Neubauer said. "Joe has scored points in his career, but what he's done more than that, last year he was no.1 in the country in steal percentage, he has been our leading rebounder at different times during his career. Joe does whatever it takes for us to win, so we're not asking him to score, we're just asking him to make sure that we win the game."
However, the biggest contribution of the day came from senior guard Will Tavares, who had 19 points on 8-17 shooting. The outburst tied his career-high from the previous game the Rams played against Tulane, with a lot of the scoring opportunities in this game coming from working against Manhattan's zone defense.
"We've been getting ready for the Manhattan game since the summer, like workouts, me and Coach [Neubauer]," Tavares said. "We do a lot of high post [and] catch and shoot, because they play zone, so it's open. A lot of my decisions came from the high post, just catch it, pass it or drive."
Both teams started slow when it came to putting the ball in the basket, scoring a combined 21 points in the first 13 minutes. However, a 10-3 Fordham run spurred the Rams to an eight-point lead at halftime, 31-23. After maintaining their lead through the first six minutes of the second half, the Rams went 15-4 in a commanding five-minute stretch, and the lead ballooned to 58-39 with 9:15 left in the game. After Manhattan clawed back and cut the lead to 60-52 with five minutes to go, Fordham built the lead back to a comfortable margin to ride out the game to its final 70-57 tally.
"Part of [the slow start] is [that] Manhattan plays their zone all year long, and they really become great at it," Neubauer said. "We talked to our team, not only in this game but in other games: 'let's get better as the game goes on.'
Fordham ended the game with 23 assists to 15 turnovers while racking up 24 points off turnovers and 16 fastbreak points.
The Rams will return to action when they play East Tennessee State University in the Rose Hill Gym on Wednesday, Nov. 29 at 7:00 p.m.